Earlier today I was looking for a photo from last year and ended up finding before photos of our backyard. Holy smokes, y'all- so much has changed! The before and afters are just too good to keep to myself for any longer, so here's a post with a lot of pictures. I've attempted to gather photos from similar angles in 2014, 2021, and currently in 2022. Some of the after photos were taken in February and then I also took some today, in June. It's fun to see how much the plants have grown in a few months!
Here's the backyard when we bought the house in 2014. That building that Trav is in front of is the garage. There is a garage door that opens onto an alley in the back. When we purchased the house, we mainly focused on remodeling the interior in order to make it livable. However, we did paint the exterior, cut down all of the overgrown weeds, and removed that white, metal fence. Oh, and ditched the ginormous dog house.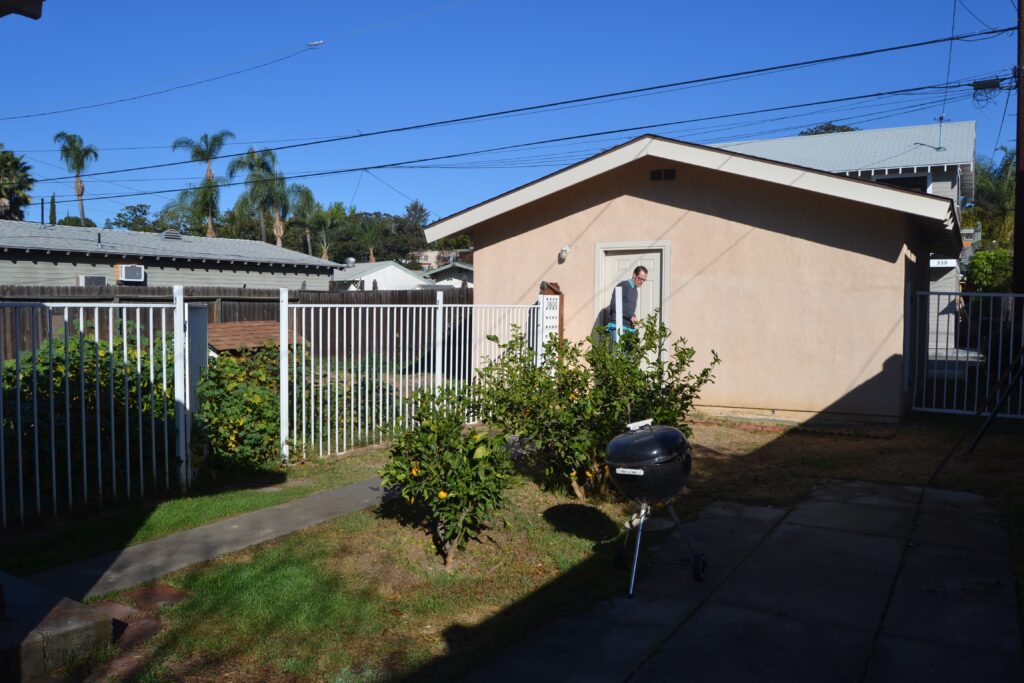 In 2017, we added on a family room and master suite, which meant the backyard was a construction zone. Let's just say things got worse before they got better. Yes, our laundry room was outside for a year- I was grateful to have it still hooked up at the house! Do what you gotta do, man.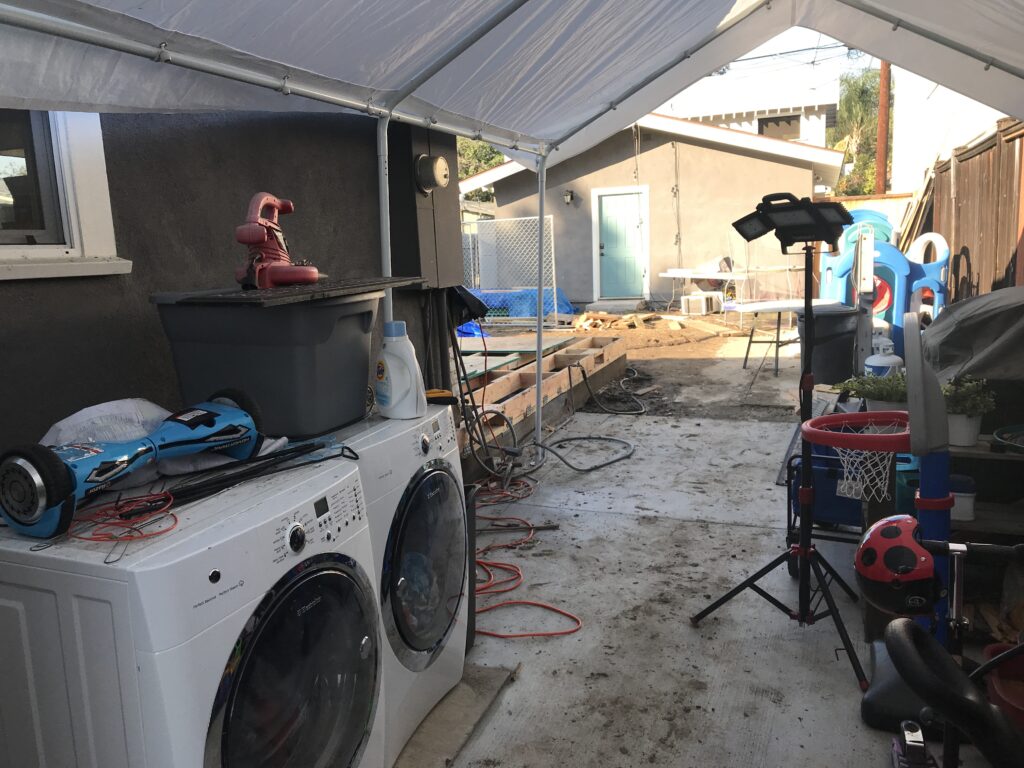 We finished the addition in 2019, but the storage unit and chain link fence used for that project stayed on with us for quite some time. Like almost three years. We're very good at taking on big projects, but we take a long time to finish the last 10%. Here's what things looked like the morning that the landscapers started a year ago in June, 2021.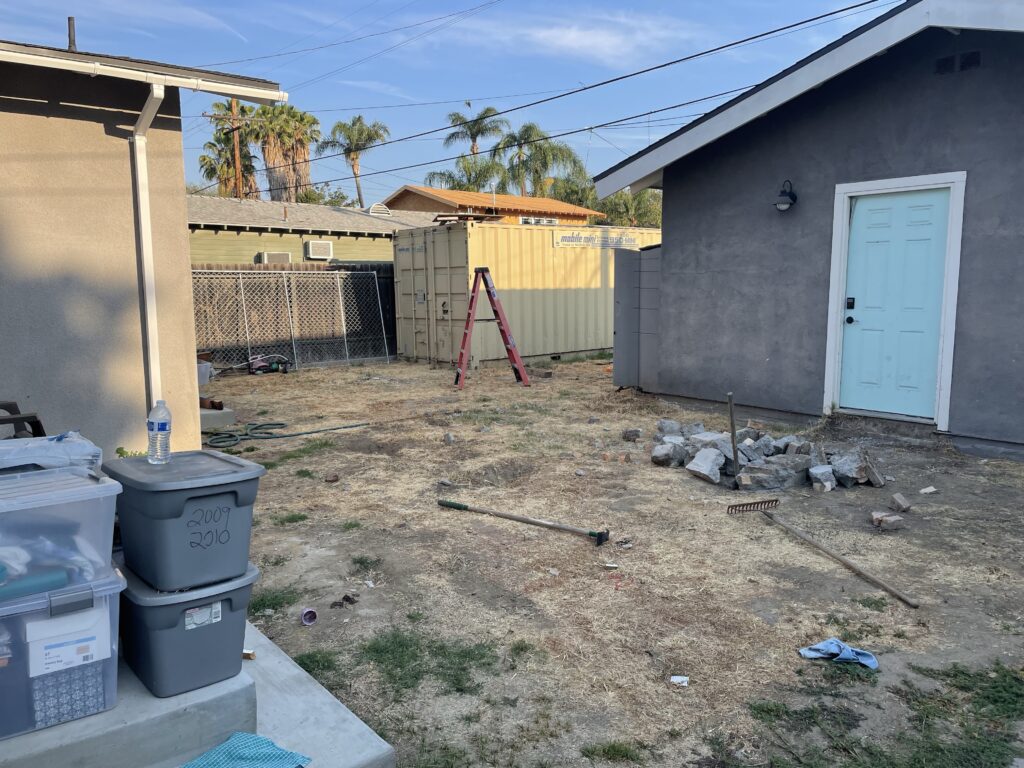 And here it is now in June, 2022! Drumroll, please…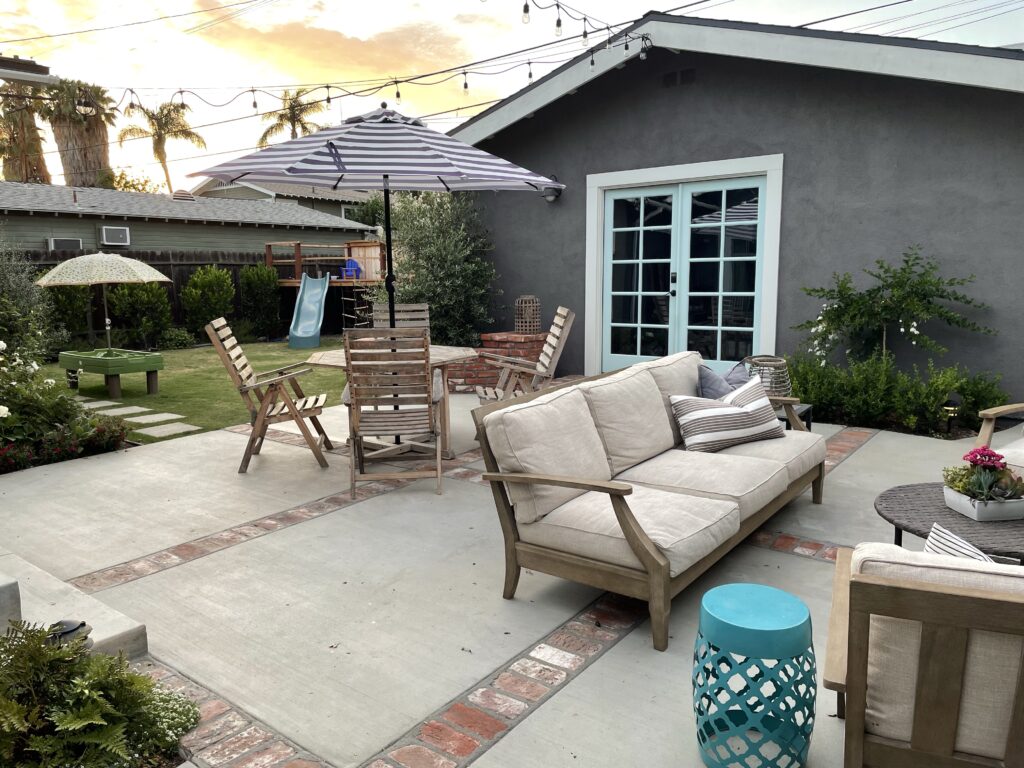 Ta da! Made a few changes, can you tell? =)
Our side yard cleaned up rather nicely… though in full disclosure, the after picture is "we're having a party" clean, not every day clean. But we are able to keep the outside stuff more in order even on normal days, and I'm grateful!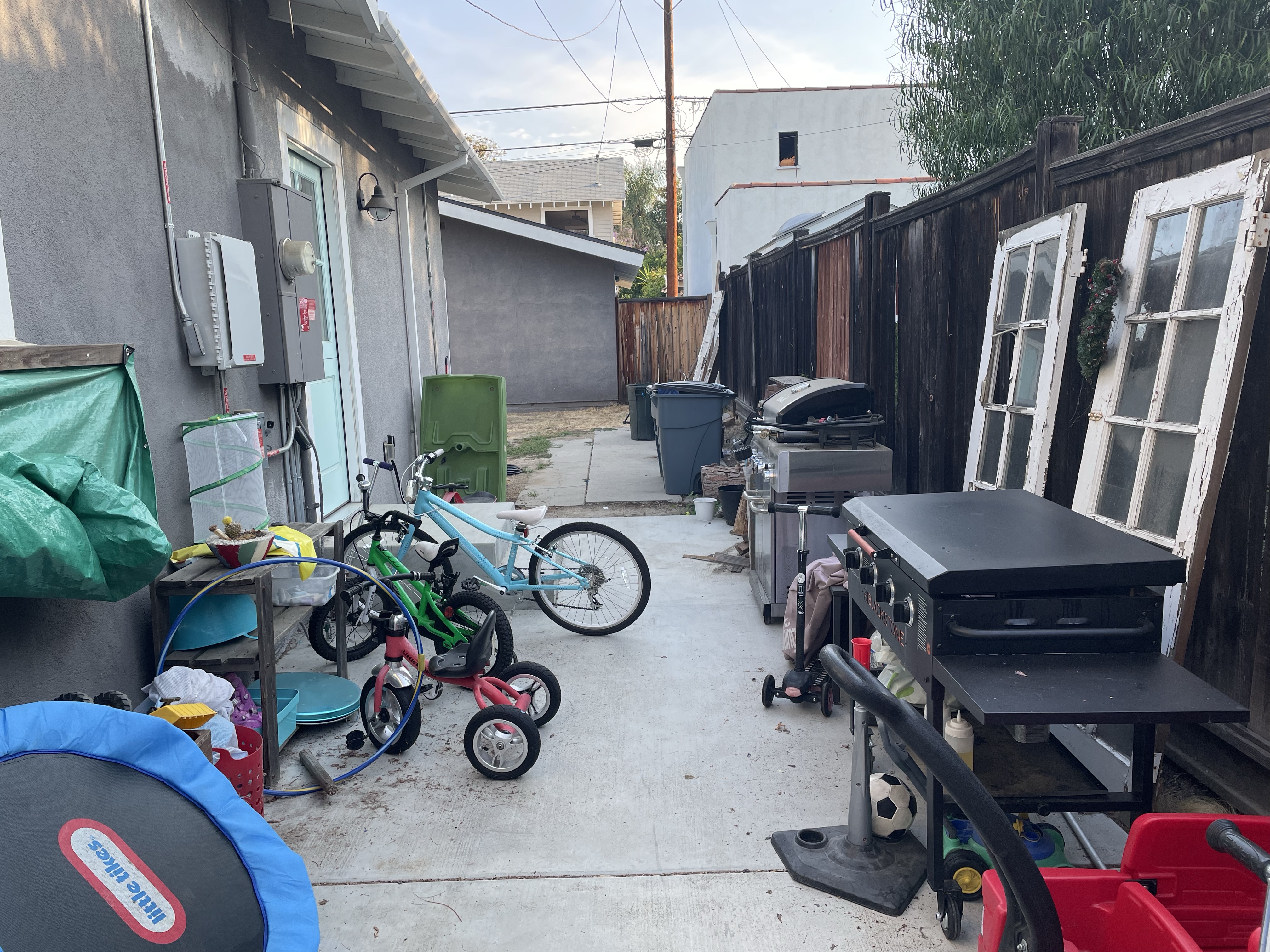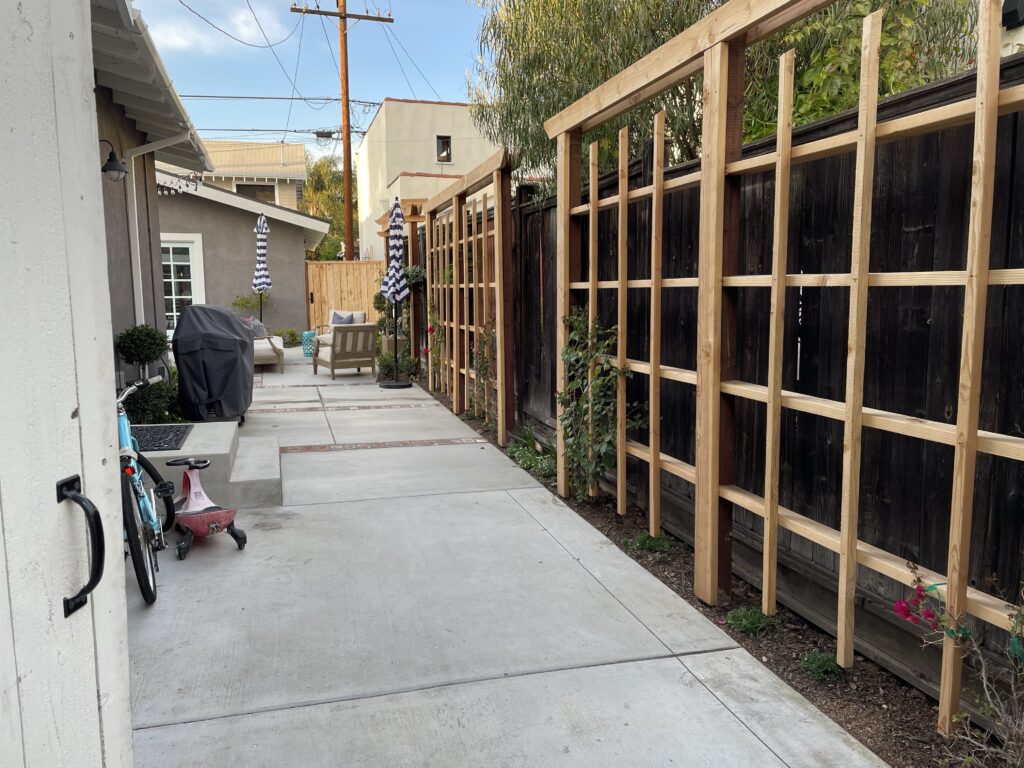 We went from weird prickly weeds and old concrete rubble to…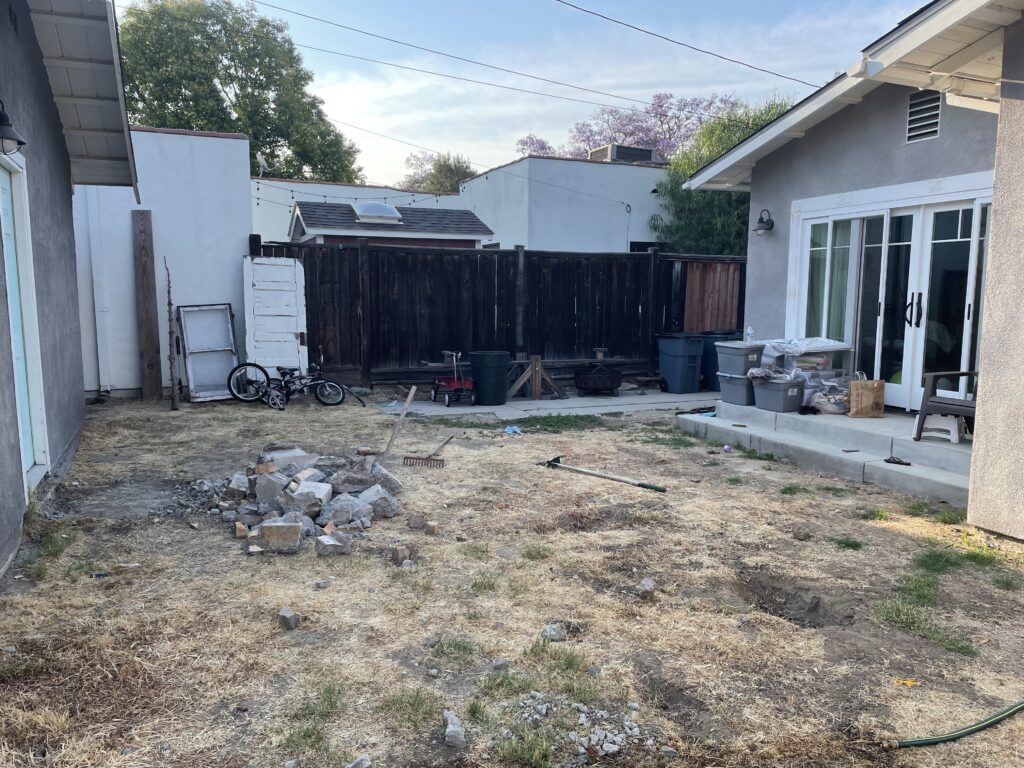 A patio! So fun! We wanted a patio off of the family room and then grass on the other side of the yard by our bedroom. And I knew I wanted brick incorporated here and there to break up all of the gray concrete and stucco. But we were pretty stumped on how to transition between the patio and grass with the corner of the garage thrown in there. Our landscape architect came up with that curved wall and we love it!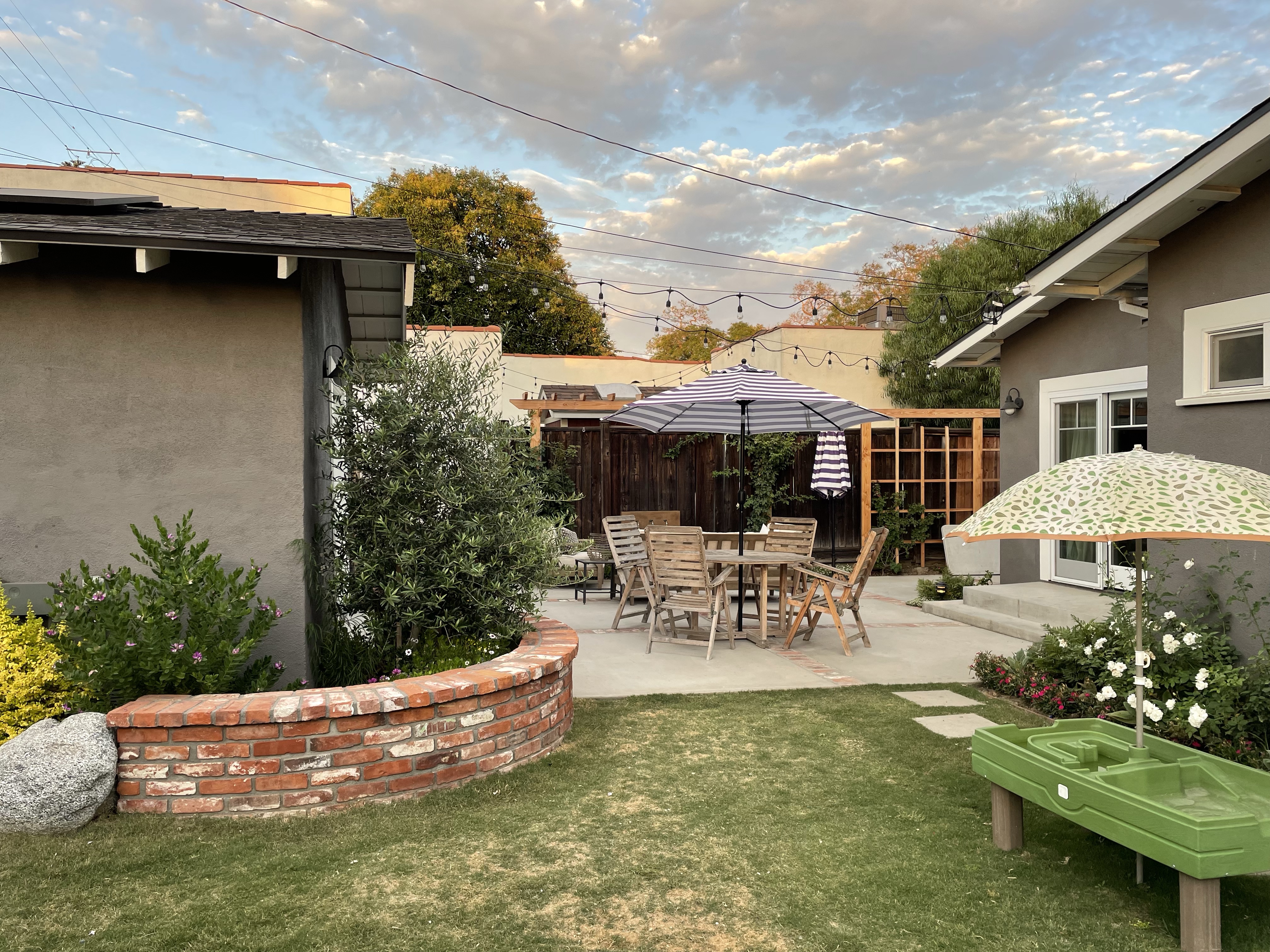 A topiary! And climbing roses that will fill that arbor someday. Plus a water feature that I love dearly. It's the little things in life. Please come over and have a chat with me here.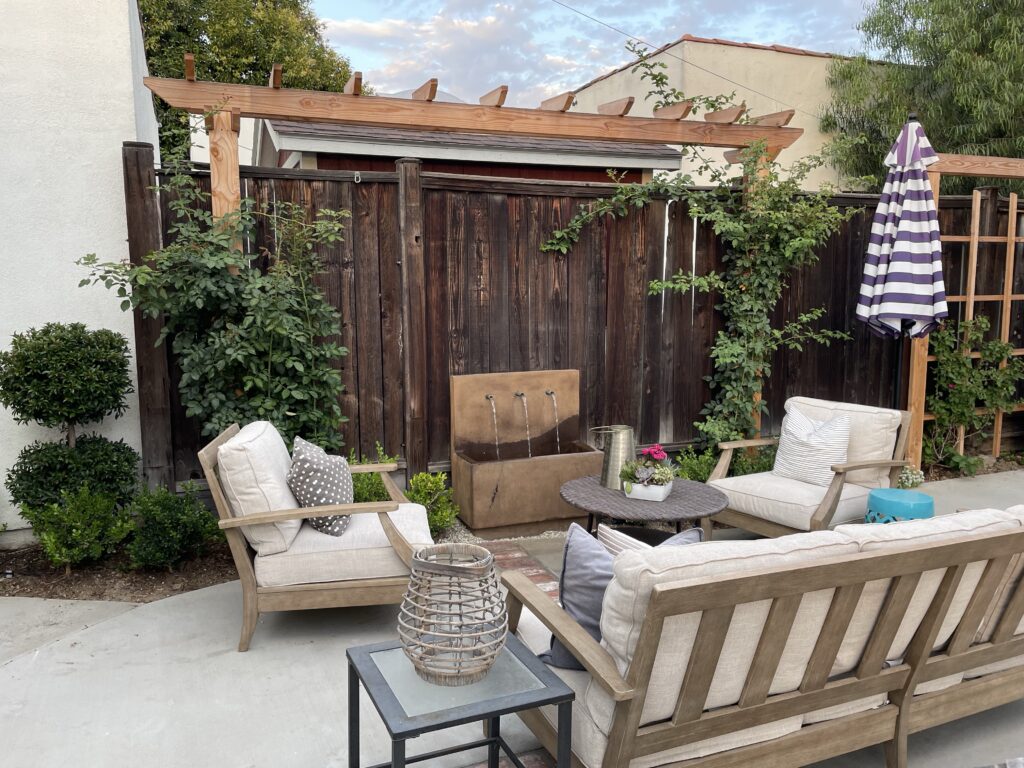 This next view transformed in lovely ways thanks to a great idea Trav came up with. I'll explain in a second. It started out beige.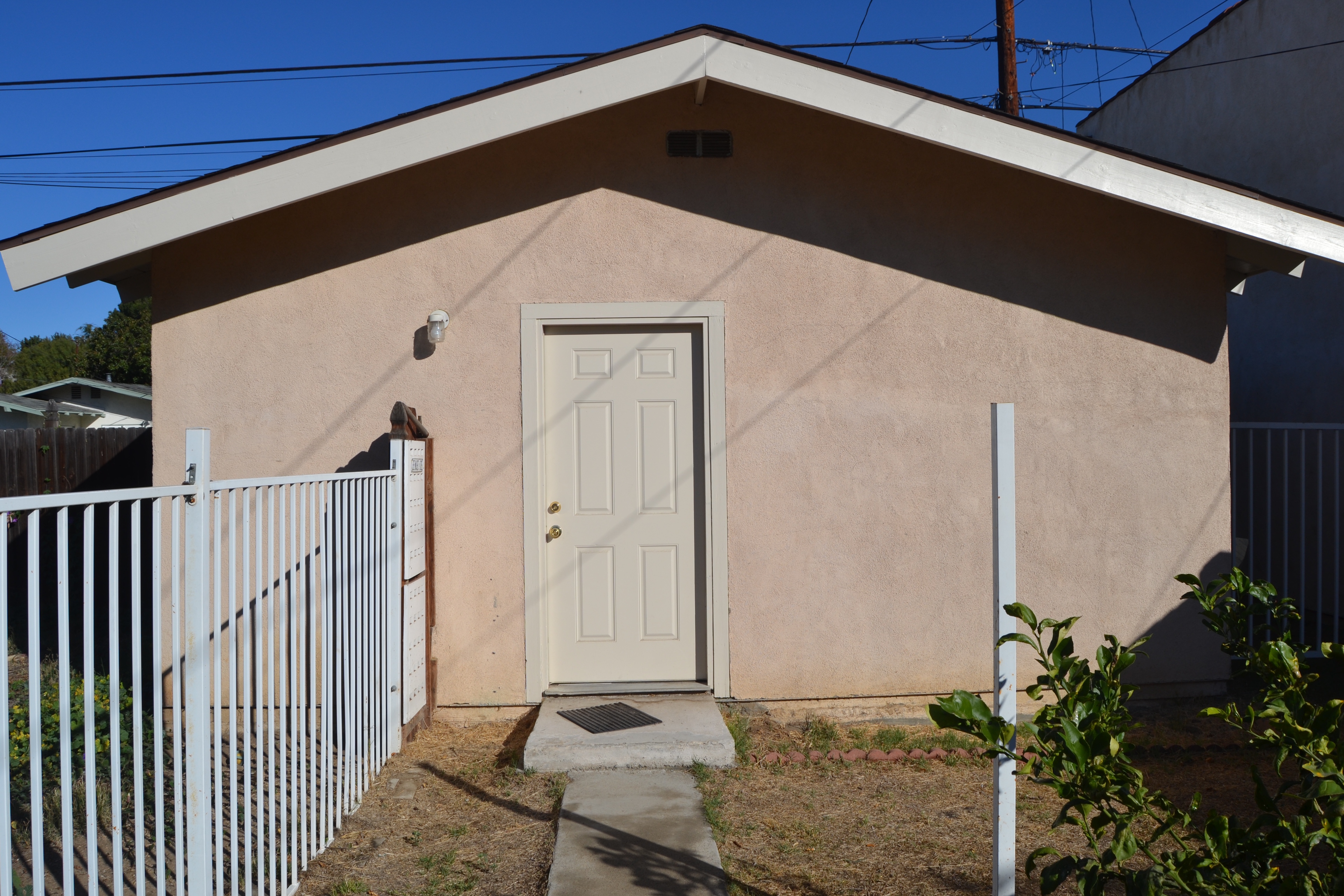 Then for many years it was still kinda boring (and why can we see the foundation?), but the cheerful blue sure helped. I knew I wanted to beef up the moulding around the door or have a trellis or something on the right to counterbalance the door since it was off center.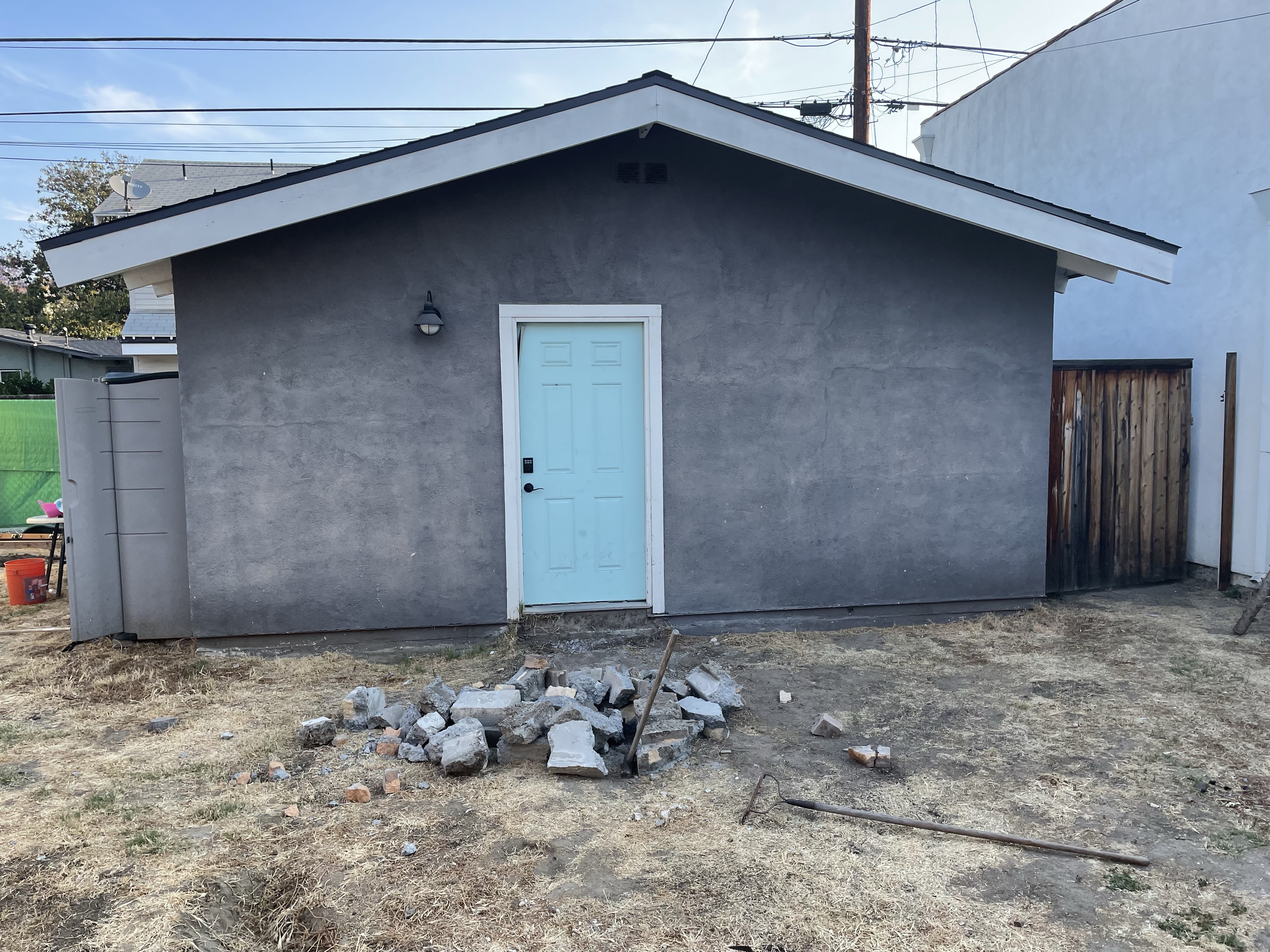 Trav had the great idea to widen the door frame and add French doors- bingo! They add a homey-ness to the backyard that we love, allows the doorframe to be centered, and widens up the stoop. Plus, Trav can open up both doors and still be a part of things when he is out working in the garage.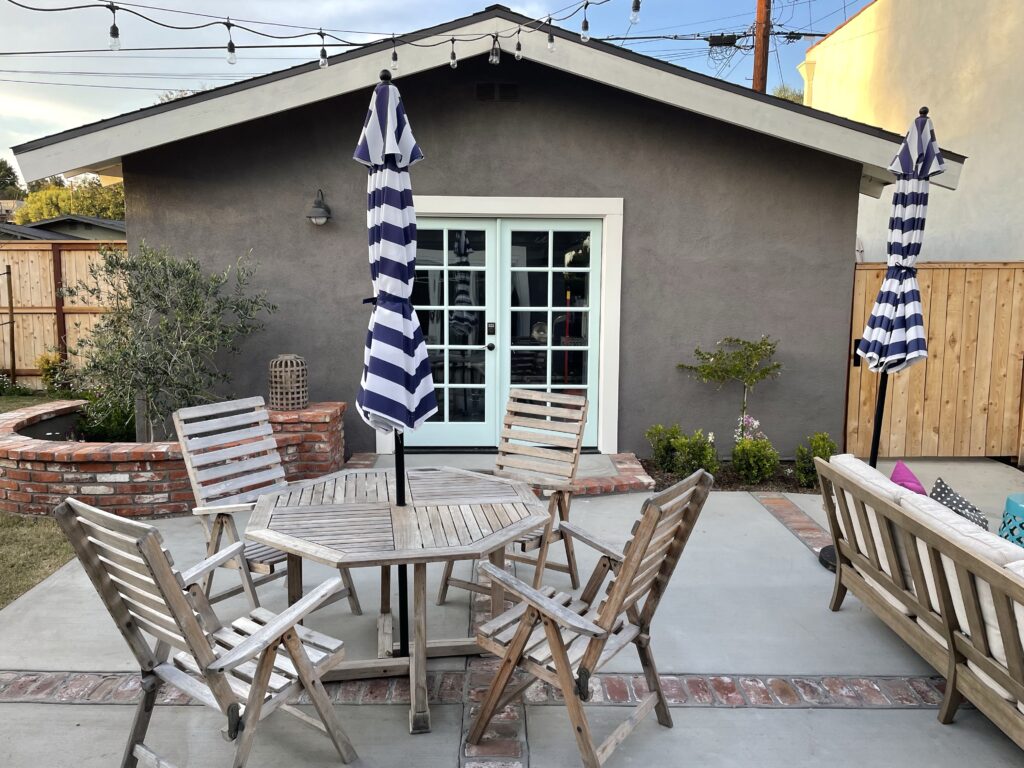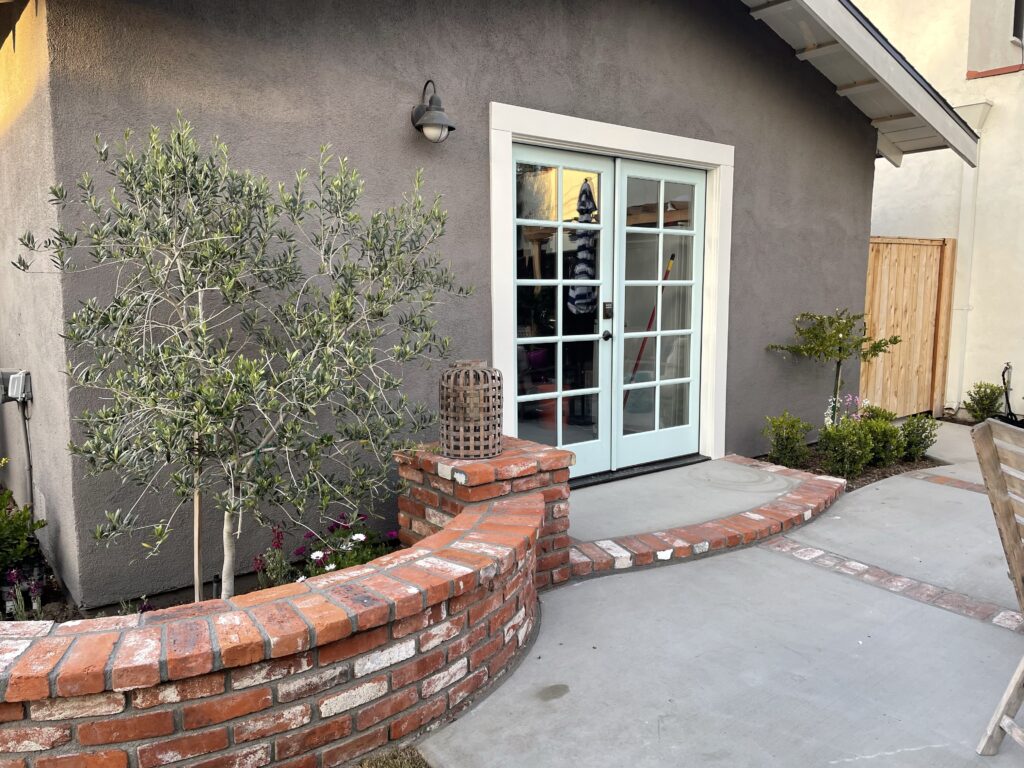 The back of the house changed a lot! Here it is when we bought it. Yes, there is a tree growing out from under the house.
This was 2013 and it's how things looked for the first few years we lived here.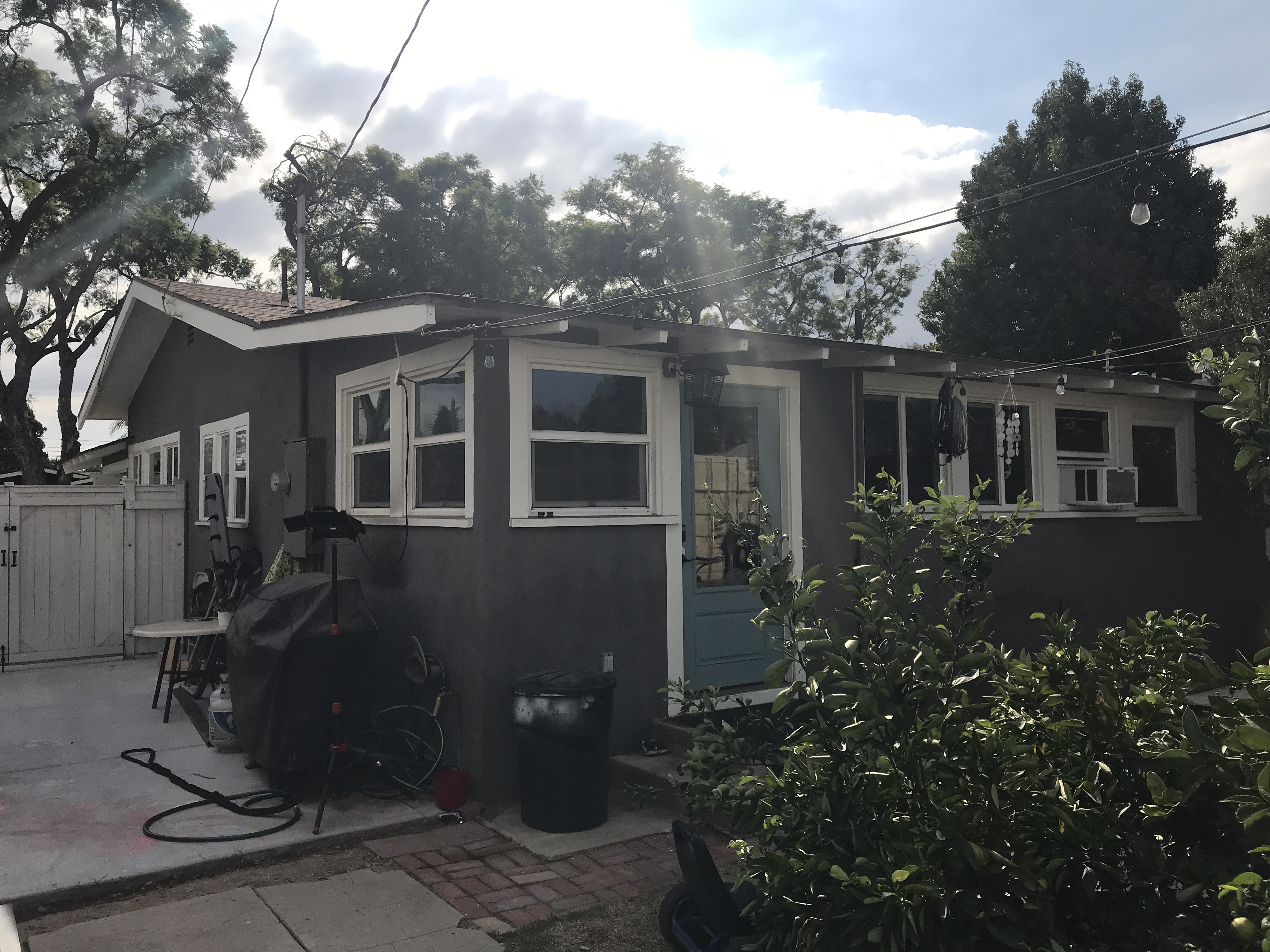 June, 2021…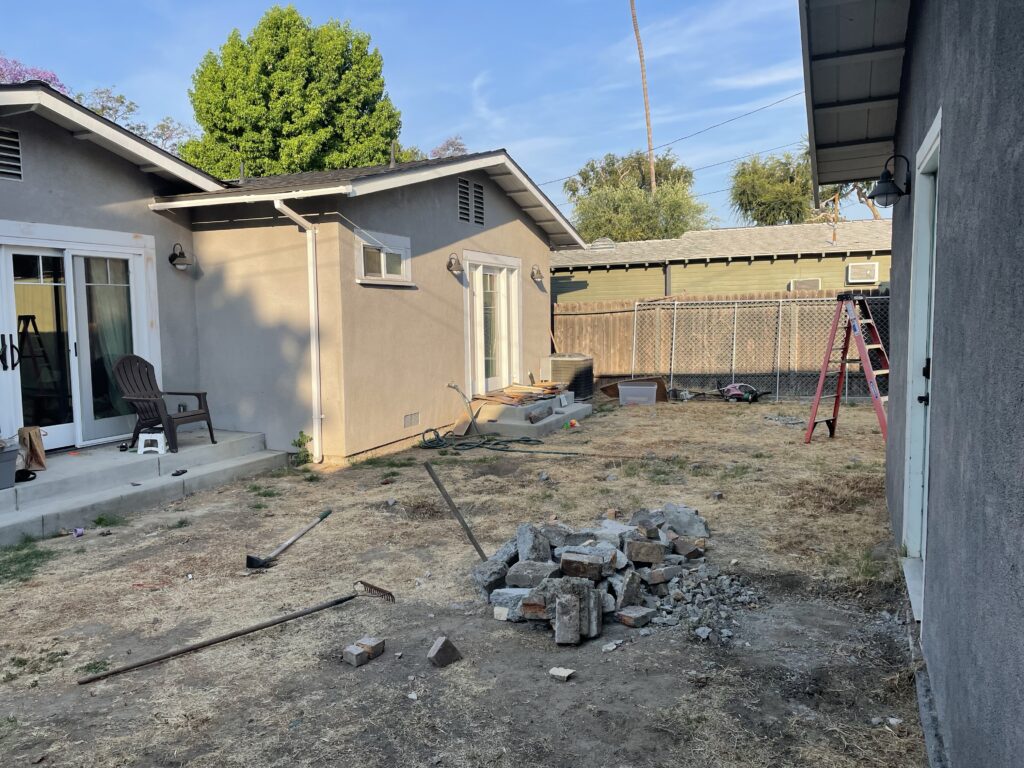 And June, 2022! My favorite new features are the neighbor path and gate that lead to our dear friends' house.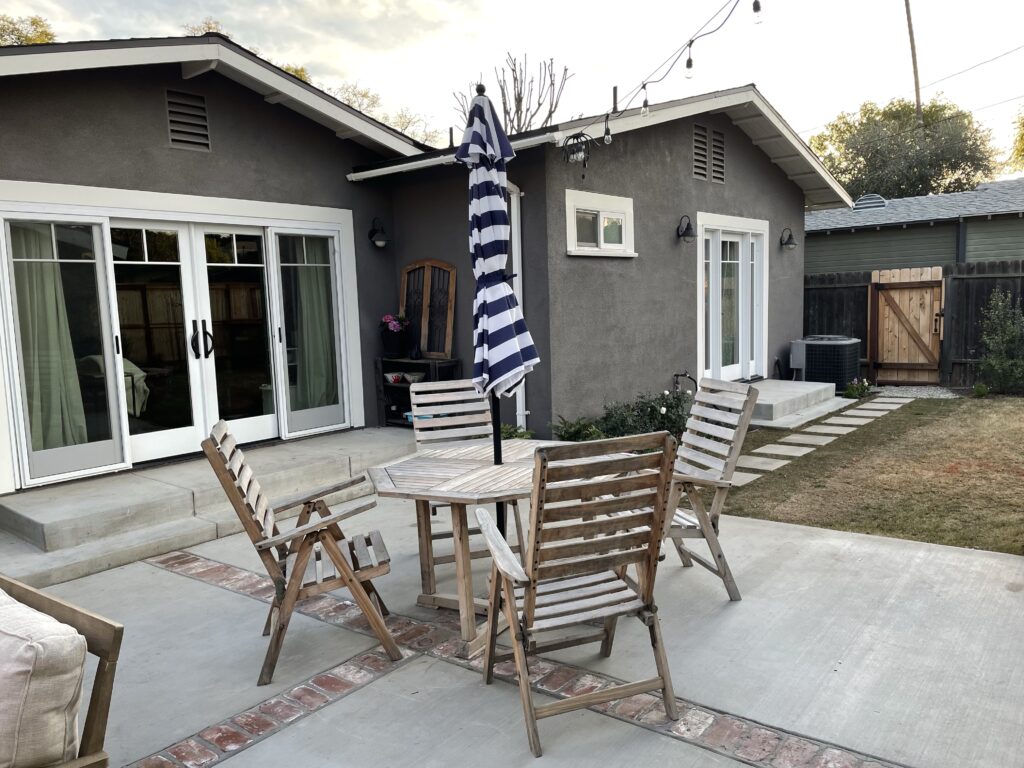 The grass is a bit of a work in progress. Truth be told, I don't prefer the grass type we went with. I remember it being a stressful decision and I thought I chose what I wanted, but it turns out I don't like it. Not a huge deal. We'll mix in other seed in seasons to come. There's a lot going on with the grass in the photo above- it is dormant in the winter, the path was a late addition once we saw how much mud accumulates there so the sod was redone, and to top it all off, someone did an orange spray paint project. Now I've over-explained all of that, so I'll stop there.
Here's the back fence in 2021. The droopy green tarp really adds a nice touch to the chain link fence, don't you think? And there's a ladder to help someone climb up to absolutely nothing. Good thing that was there.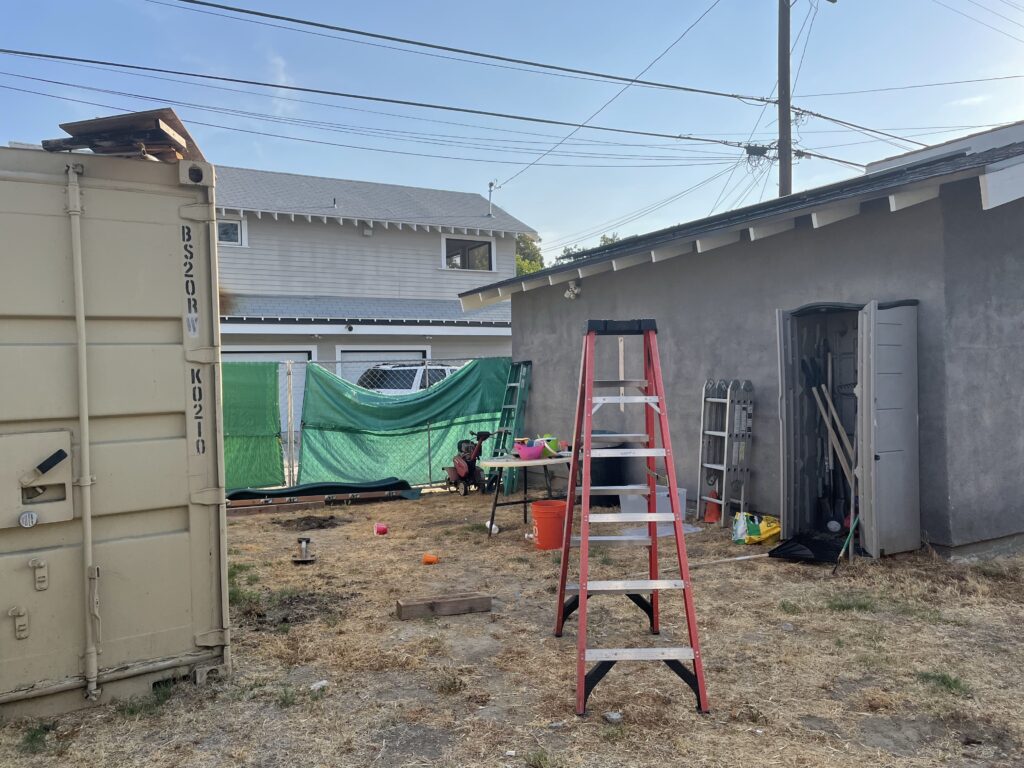 Much better. New fence and gate to the alley, pretty trees and plants, and a fort for the kids.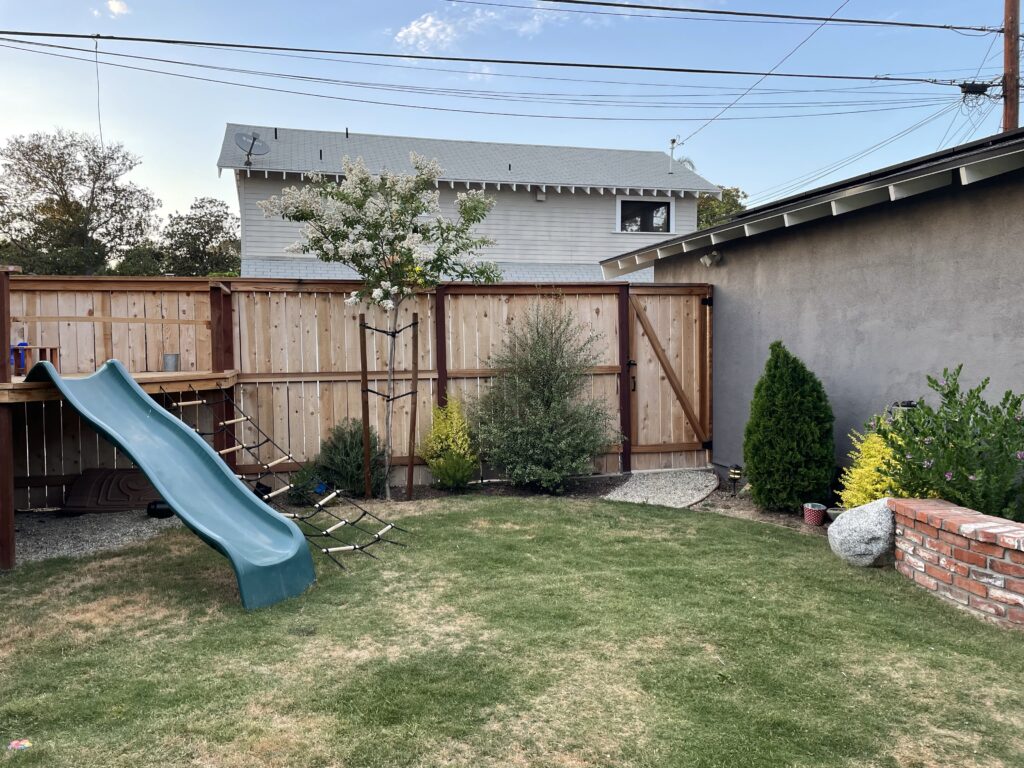 2014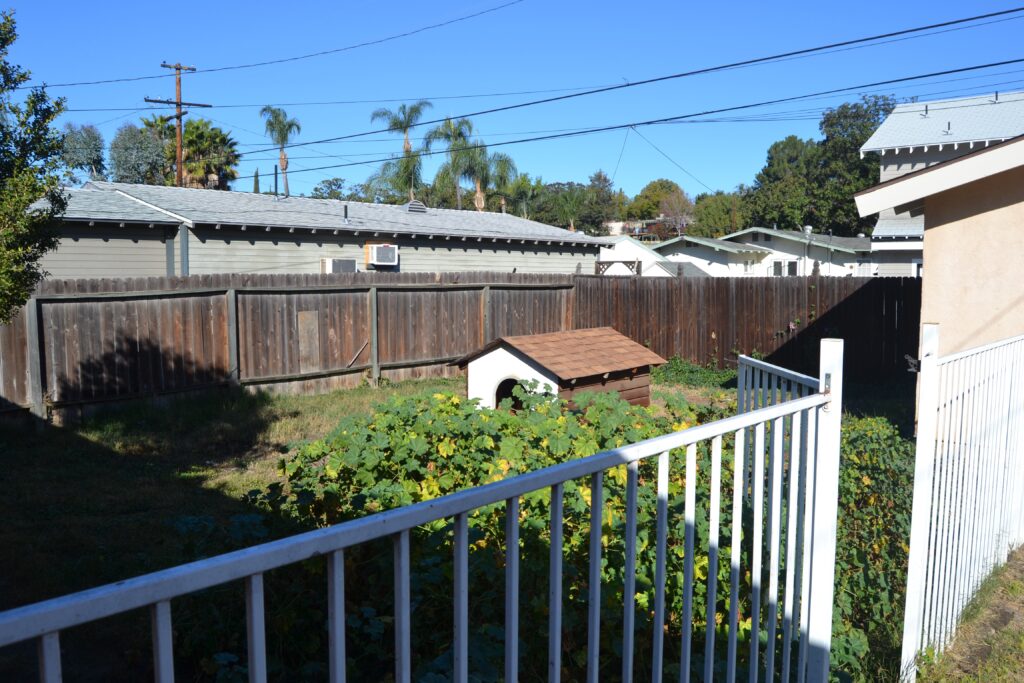 2021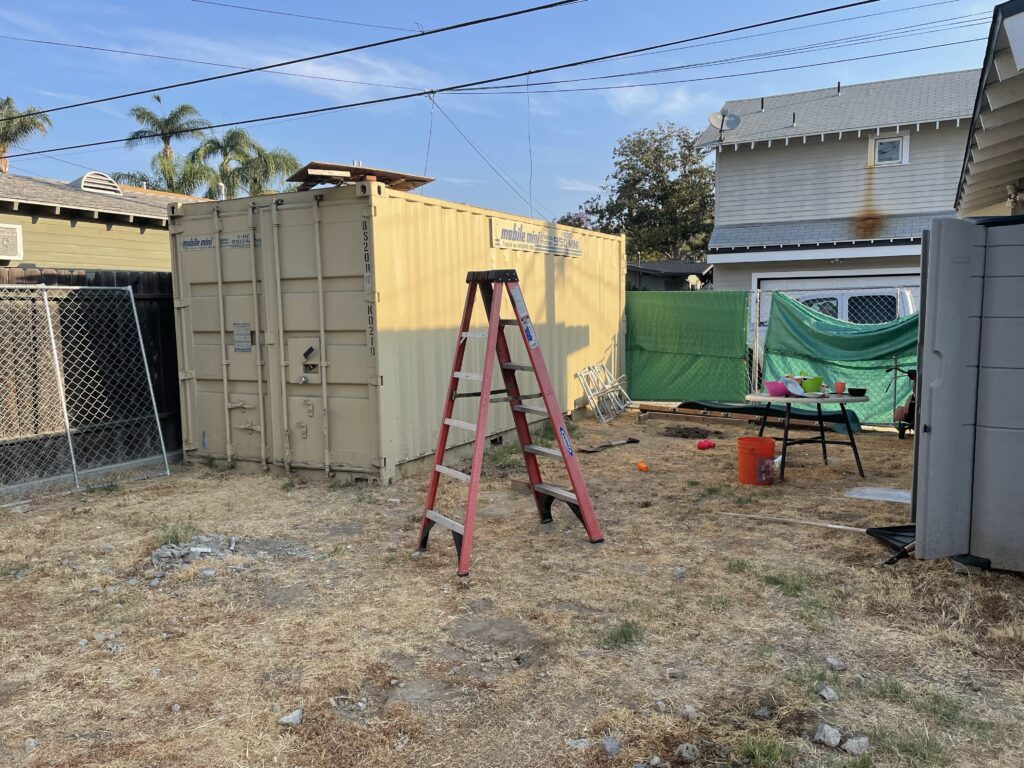 June 2022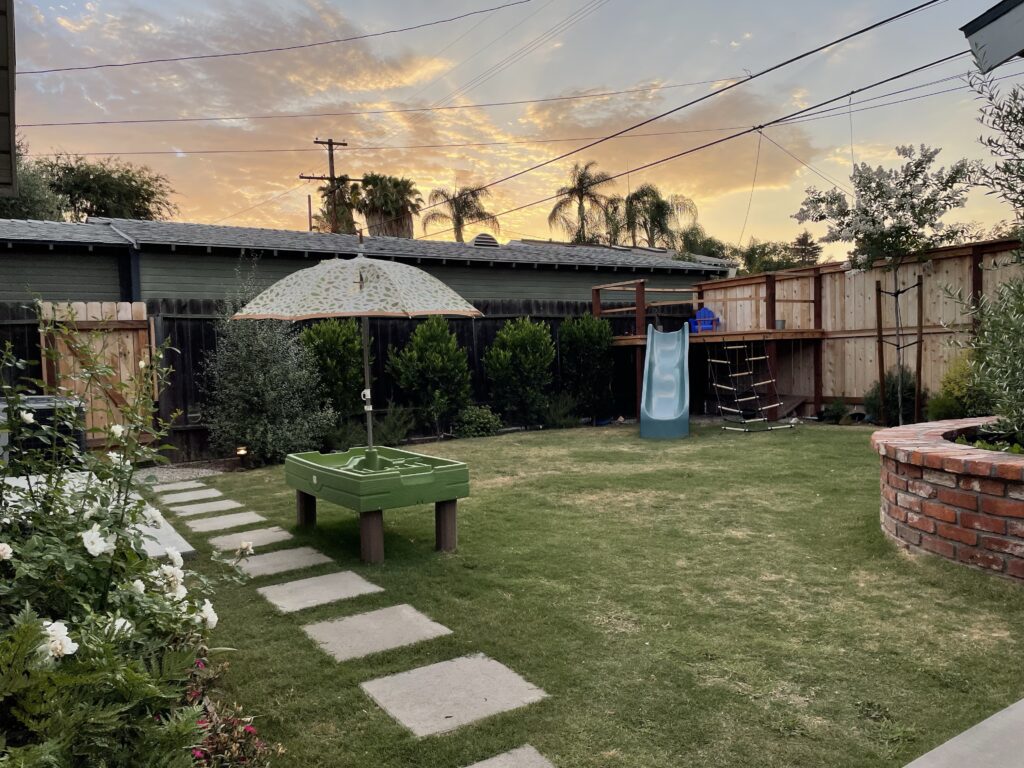 At one point, the carpenter was here building the trellises and I asked him if he could build a hexagon shaped platform to fill the corner. He said yes and then we added a slide we got for free from some friends who were done with it. Wa-la! We have a fort. Trav added more railings around it after this picture was taken. More features may be added in the future. Cade would like to add a trap door, a fire pole for quick exits, and a flag. But it's great for now! Wes likes to look over the fence at the trash truck.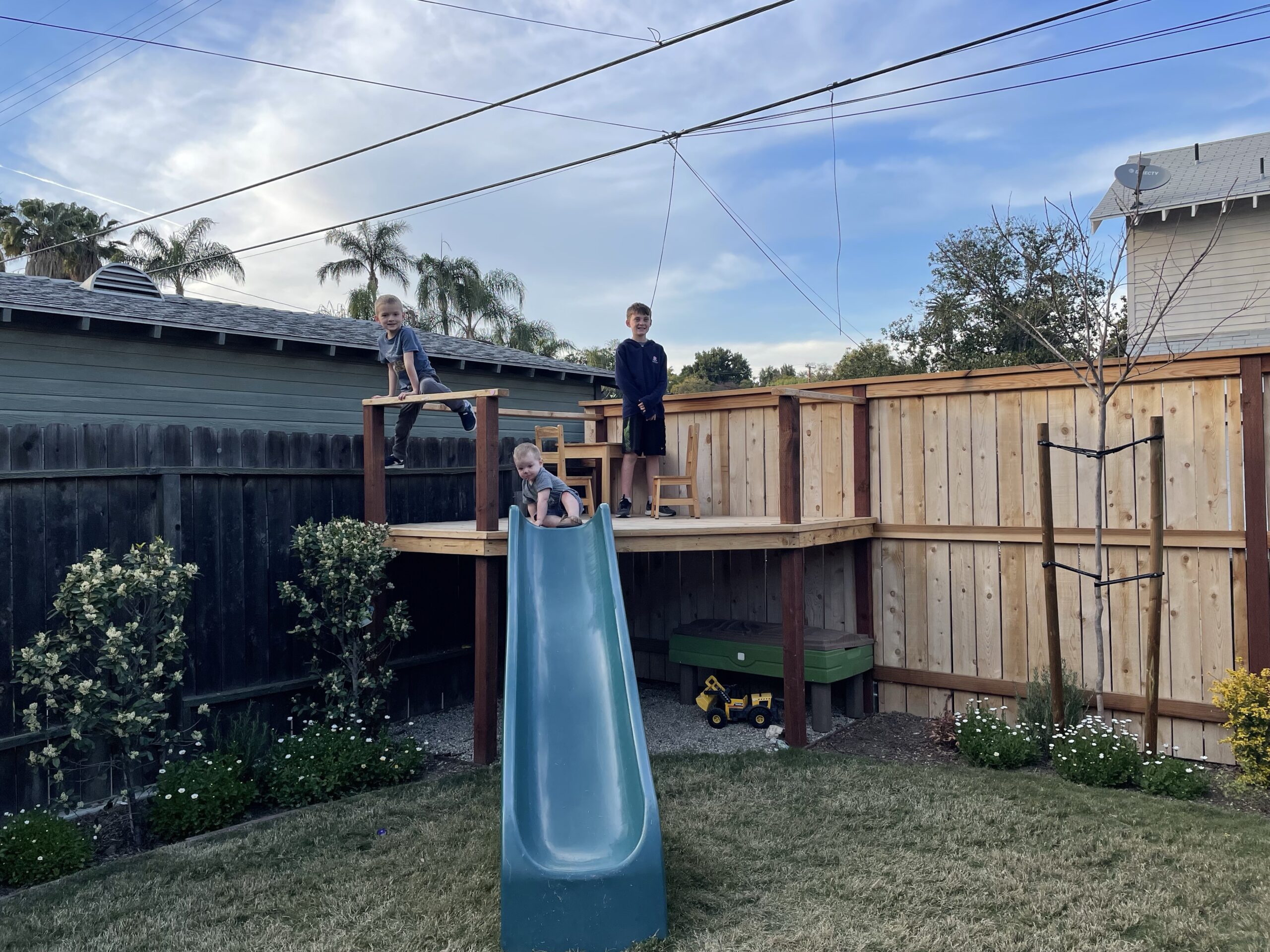 Weird side yard got some attention, too. Not pictured is a yucca tree toward the front of the house that took a small army to remove. Now you can walk on even ground and there are pretty camilla bushes to see out the bedroom windows.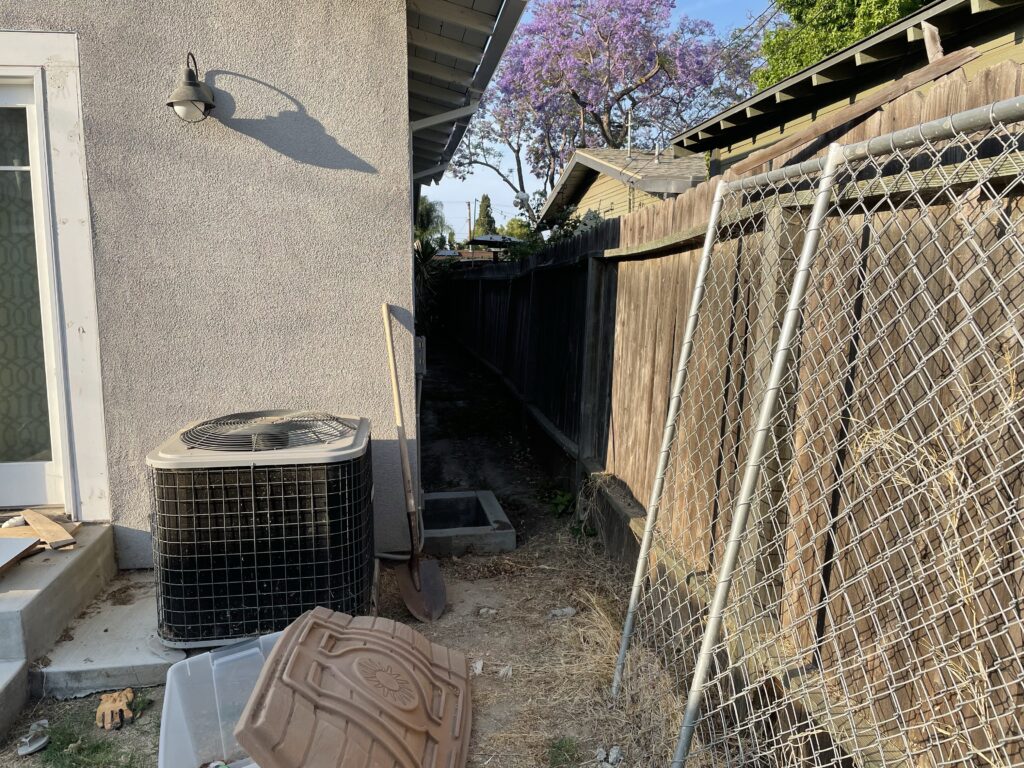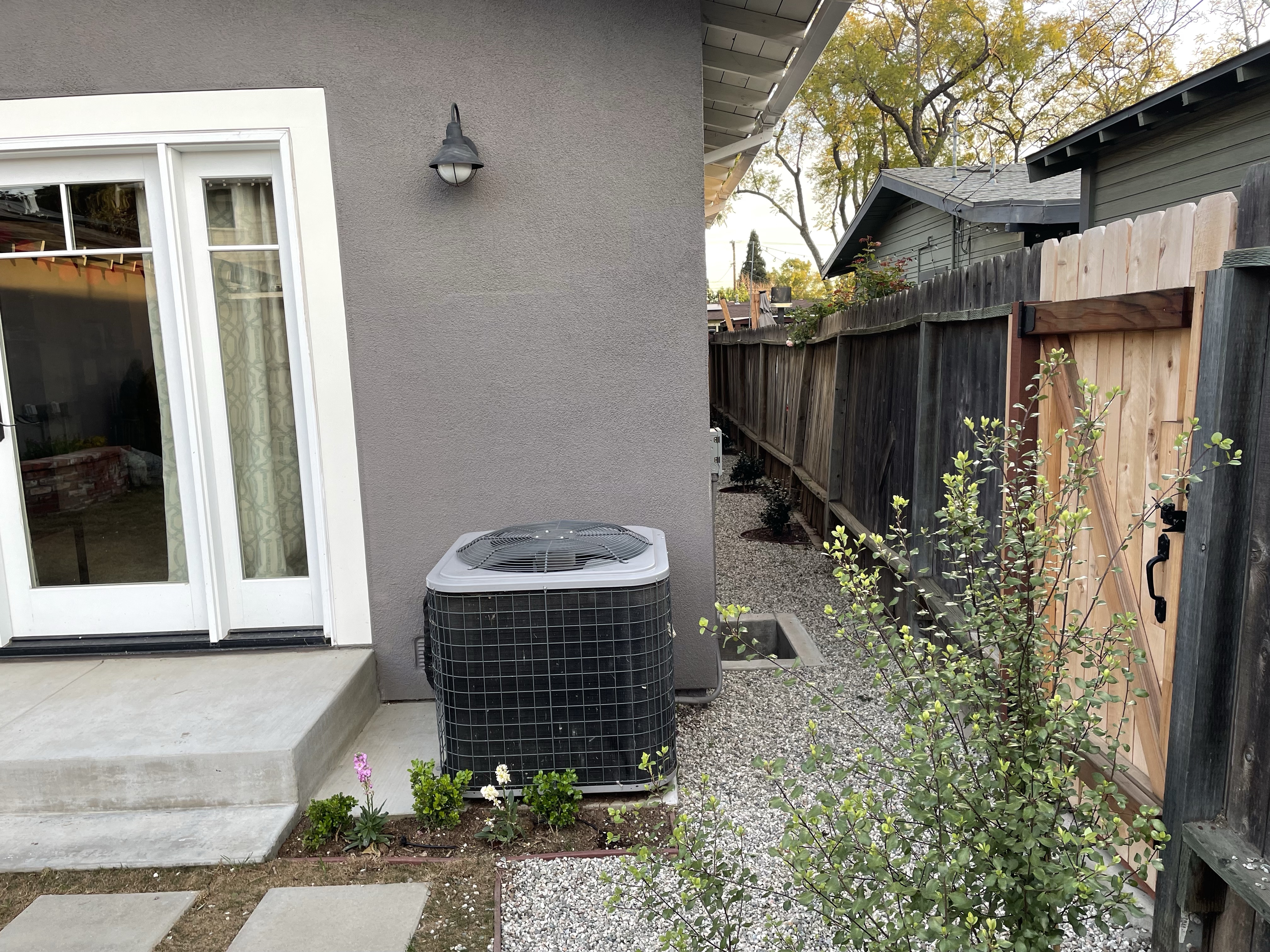 This is what I see when I walk back home after visiting with our neighbors. The view still catches me off guard! We are so thankful we were able to make this into a beautiful space.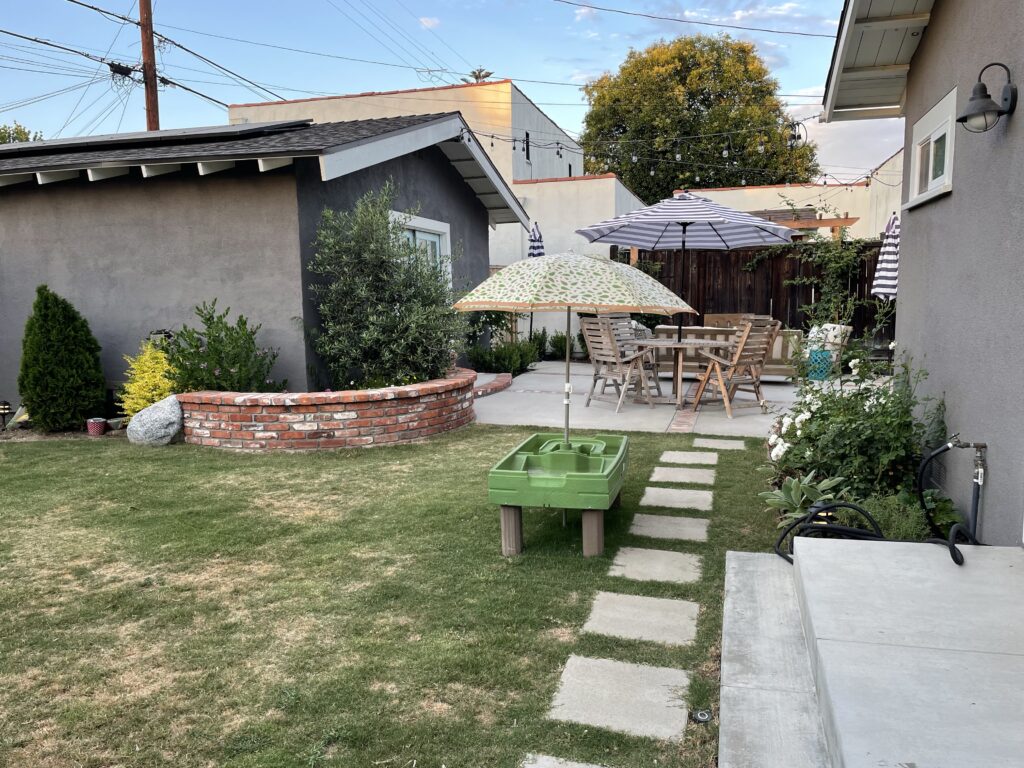 And one final view of my new favorite spot to sit. I have much to learn about gardening, flowers, trees, weeding, trimming, etc., etc. But I'm excited to learn! I hope our backyard encourages you if you have something that needs updating or renovating. A lot can change for the better in a short amount of time.