Our awesome Austin home is about to undergo a second big renovation. Let's take a little walk down memory lane to remind us of the journey our house has been on.
We purchased it in February of 2014. It needed some work. And by that I mean every room and every part of the yard needed attention. No regular maintenance had been happening for years, and there were layers and layers of nicotine and diet coke on most surfaces. Yum!
When we bought it, I was very pregnant, so we got to work real quick. We focused on demo-ing everything gross and fixing up the basics- 2 bedrooms (1 for us, 1 for Savannah), 1 bathroom, the living room, dining room, and kitchen. Basically the front half of the house. A LOT happened in the first two months we owned it, then we moved in, finished up the kitchen, had a baby, and kept plugging away at all the little projects that still needed to be done. We even did some exterior work. The transformation was remarkable!
Here's a slideshow of before and after pictures. Some of them are, ahem, more like "in between" pictures rather than "after", as you will see. Let's just say we have a shortage of storage and I didn't pretty up the back rooms for these pics. I did try to take them from about the same angle as the before shots.
This slideshow requires JavaScript.
So, the front of the house is looking great, but the back half of the house is wonky in a lot of ways. Our home was built in 1921, so there have been many random additions at various points. There's a second bathroom in the back corner that literally looks like it may have been an outhouse that they framed in as part of the home. Eew. We demoed it all and then shut the door. So the back corner of our house is unused and you can see through the sub floor to the dirt ground outside. It's very fancy.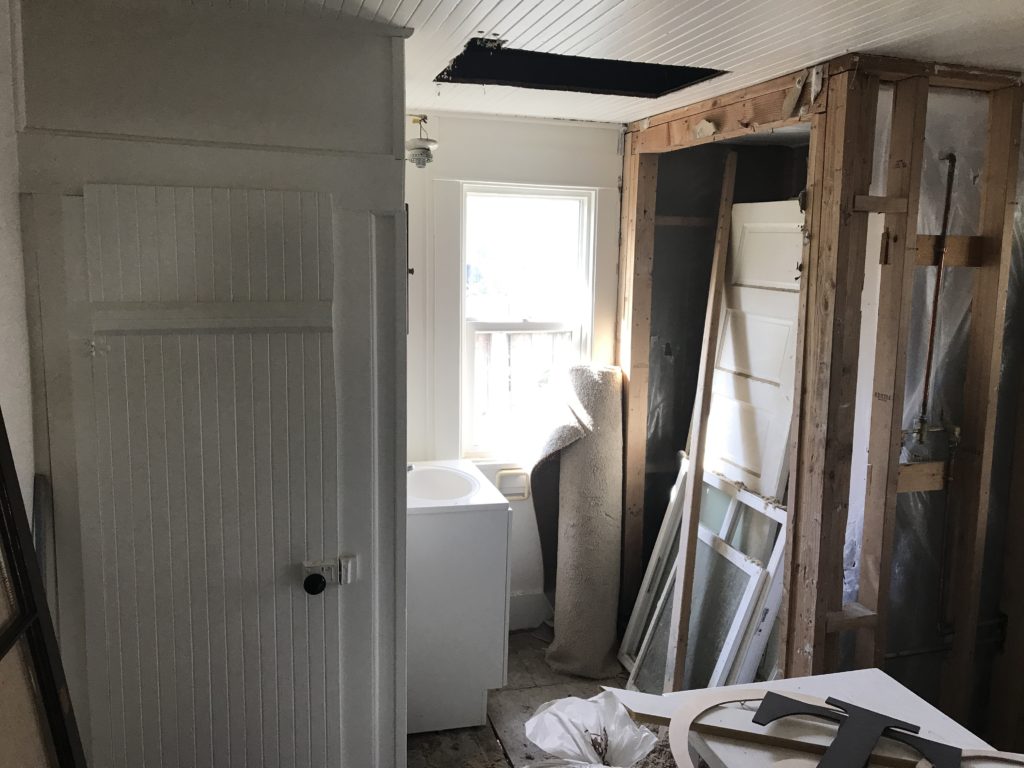 The third bedroom appears to have opened onto a porch at some point in the past. That porch was framed in to create a weird little room that still has outdoor siding on it's interior walls, and the original windows and French doors were never removed. When we bought the house, this was the room that made the place feel most like a crack house. Nothing like a little plywood covering the doors to make you want to cozy up at home! We painted it, put in a remnant piece of carpet, and put the laundry hook-ups in there.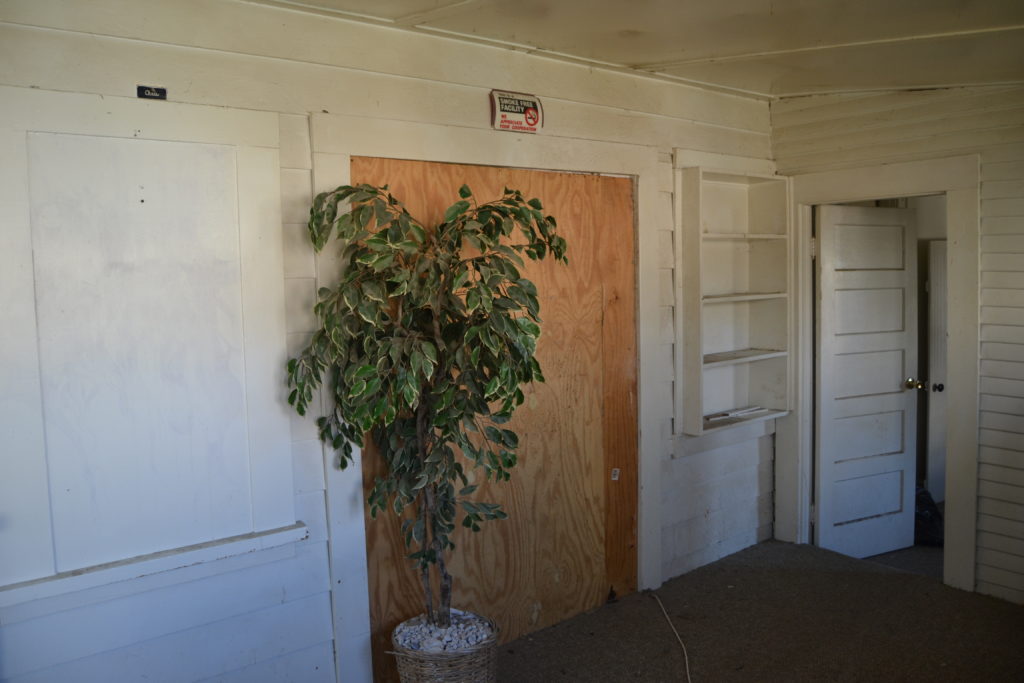 This is a shot of the closet in the third bedroom that's attached to this weird room. That's a boarded up window. Inside a closet.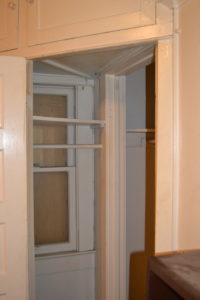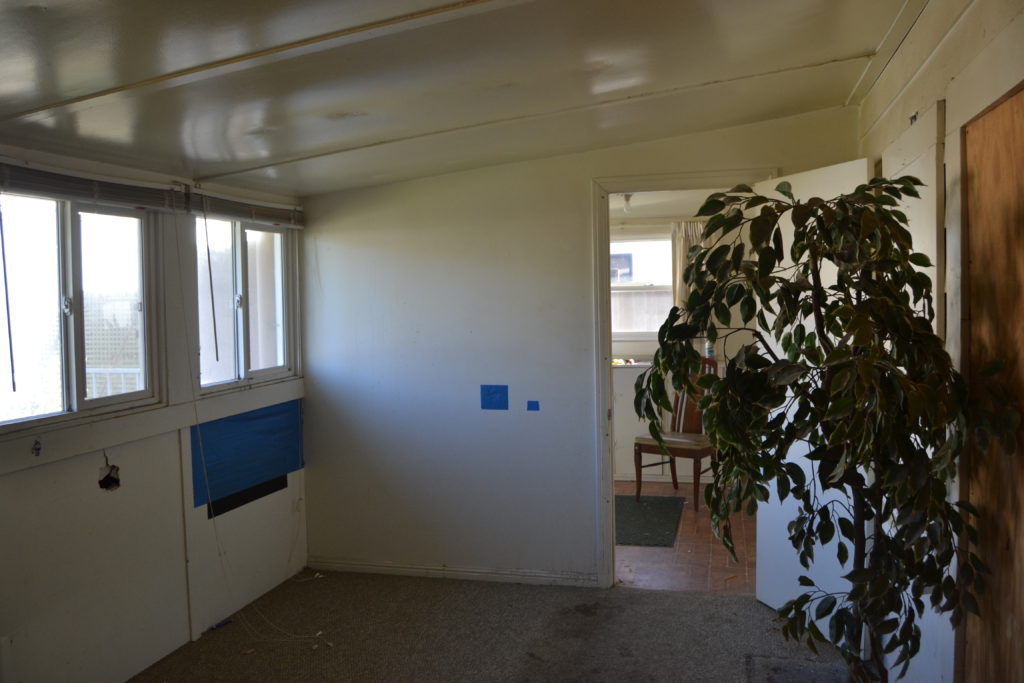 Here's what it looks like now. It could be neater.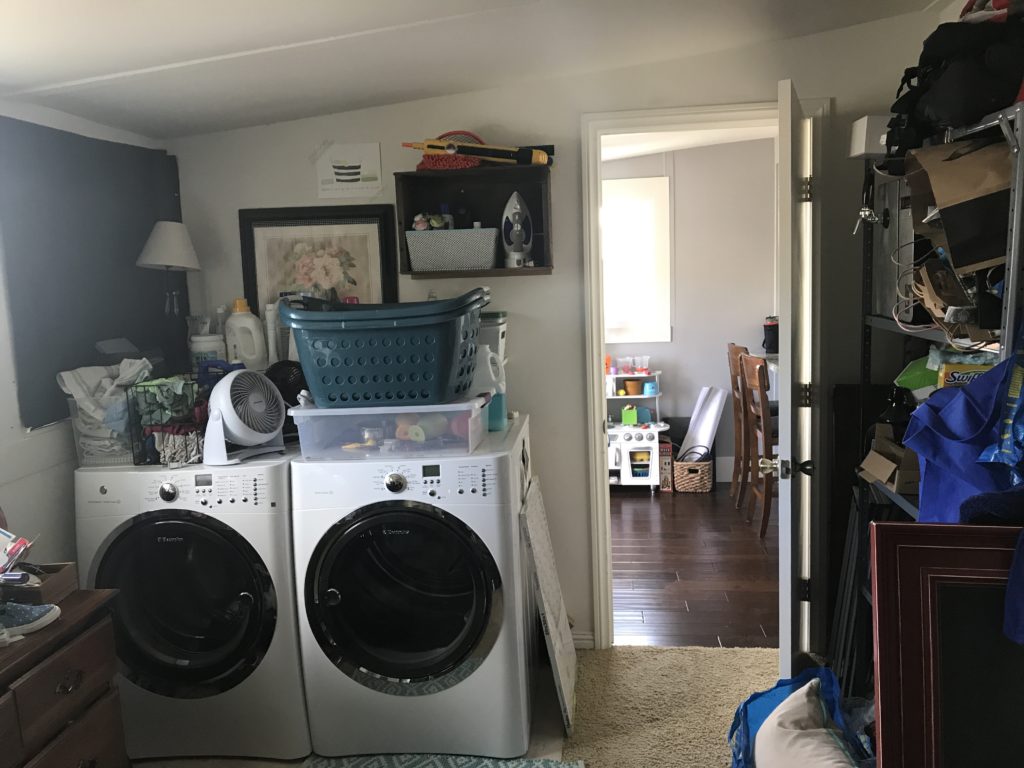 We knew that we wanted to reconfigure the whole back of the house when we bought it, but it wasn't a necessity at the time. We thought we could start that project maybe 6 months down the road once Savvy was a few months old. Then reality set in. And by that I mean we realized we had no more money. =) In my mind, I began to consider the next big renovation as something that might happen in ten years. Yep. Ten years. I needed to push it that far out of my mind so I could choose thankfulness for what we did have and focus on making the best use of the space. For a while, the third bedroom was a guest room and the funny closed-in-porch was a playroom for Savvy. Now that Cade is here, the third bedroom is our room and the closed in porch area is the laundry room/utility room/master closet. We keep our dressers, laundry hampers, and my desk there, which is also where I get ready since the front bathroom is small. Lots of stuff (as you can see in the pictures. #reallife) and not really any closed in storage. It's a hard working, weird room!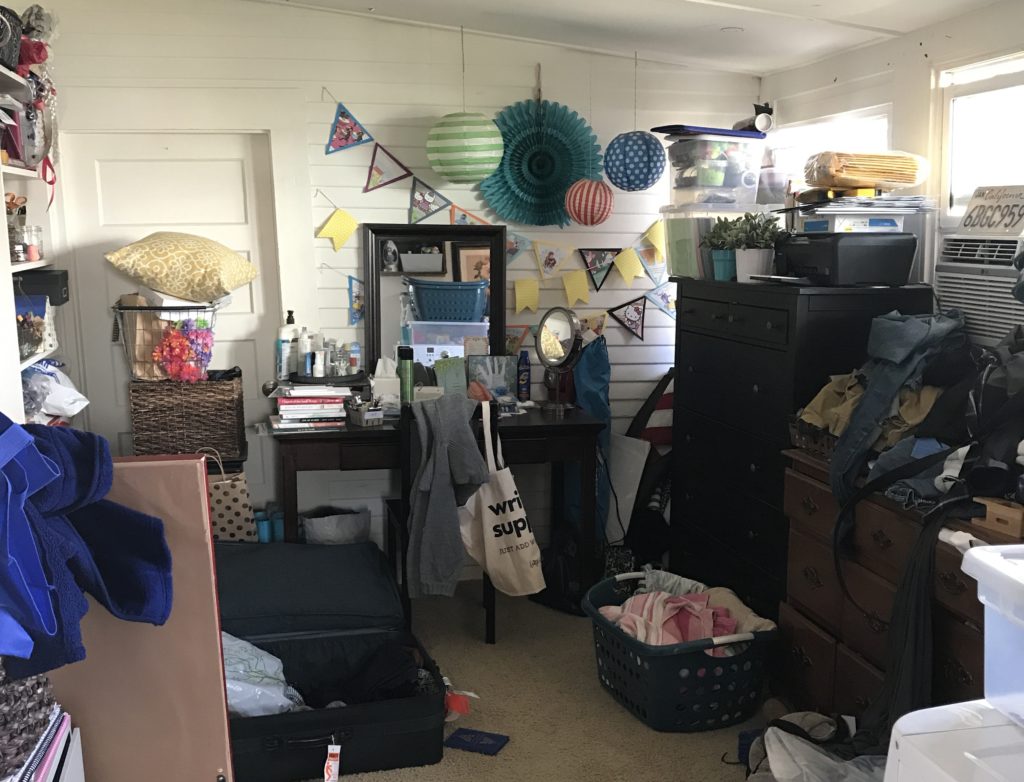 Please note the decorations on the wall from when this was a playroom over a year ago. And the unpacked suitcase from last week. And the yellow pillow that appears to be levitating above that basket. So many places for the eye to settle! Or not.
Well, the Lord is gracious in his guidance- about a year ago (fall of 2016), Trav looked into refinancing our mortgage and realized that we could pull money out of our equity for a second big reno project. Cue my cautious excitement. After lots of little steps forward and prayer as we tried to figure out what was best, we decided to go for it!
We met with an architect to get ideas for the space. We had easily envisioned the changes we made to the front of the house, but the back really stumped me. Part of its wonkiness is that when previous owners enclosed rooms and added on, they just kept sloping the roofline. This makes the ceiling angle down weirdly inside and there isn't any attic space for heating and air conditioning. We added a/c to the front of the house when we moved in (I consider it a necessity. I'm a little bit fussy.), but the back doesn't have any vents. We knew we needed to change the roofline, and that's where I got stuck. The architect gave us so many great options!
Here's what the back roofline looks like now. A straight line all the way across. And see how the roof is just barely higher than the back door?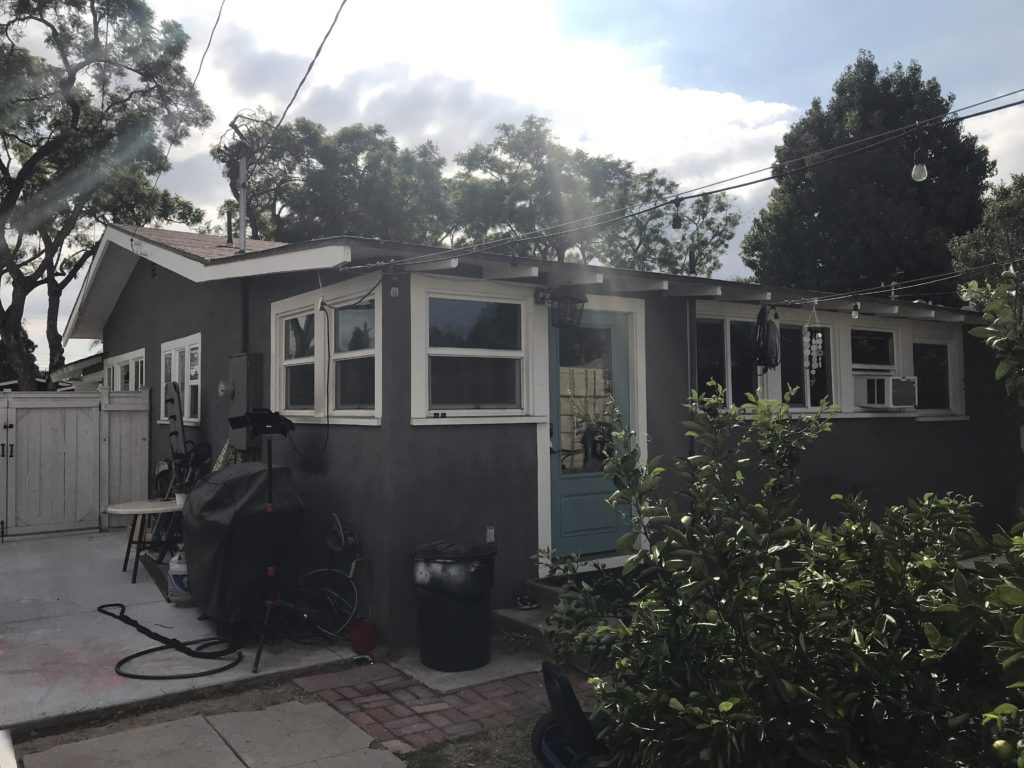 Here's what it will look like after the renovation: two gables! So pretty!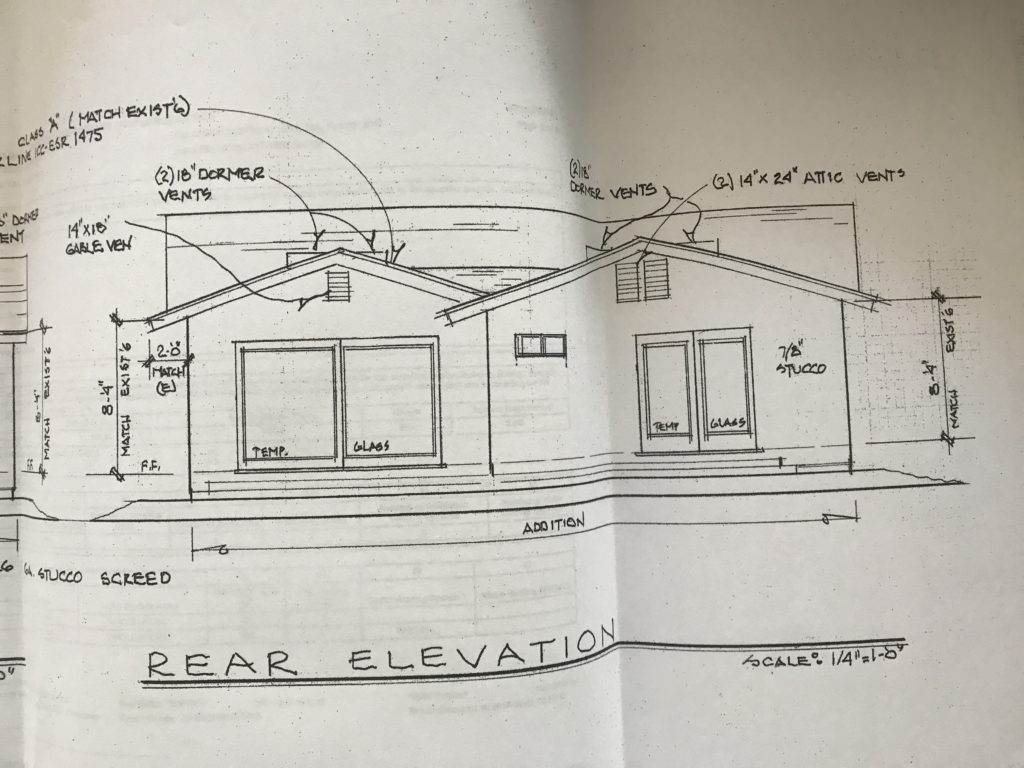 Here's what the floorplan looks like now: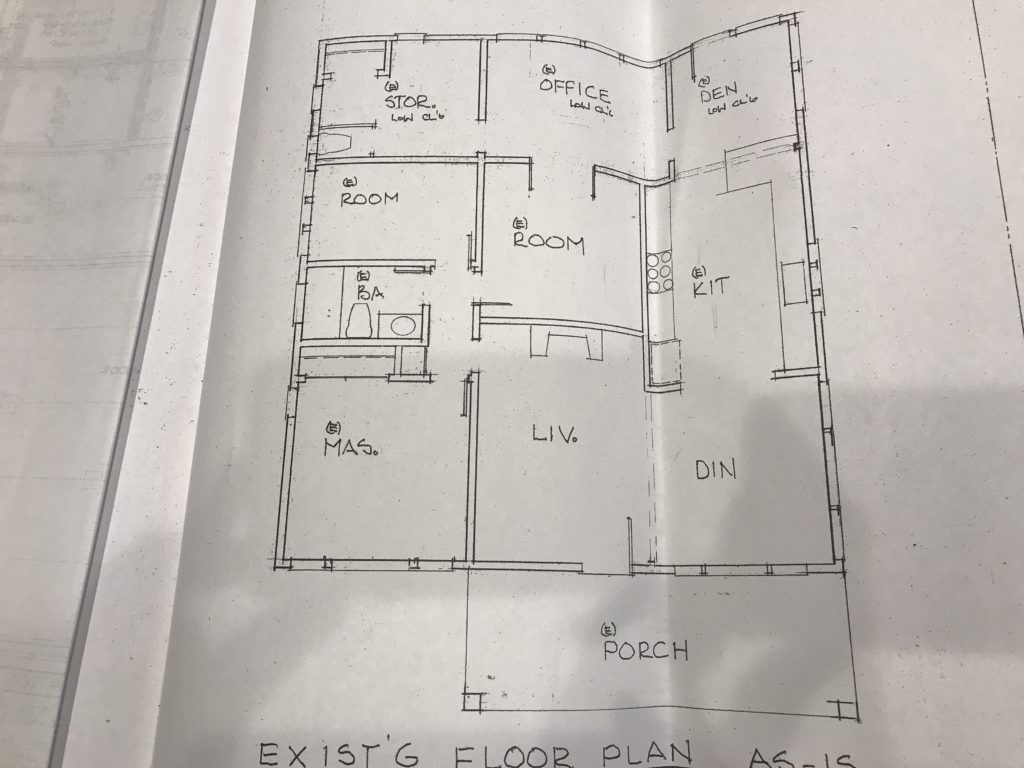 And when it's done… (!!!!!)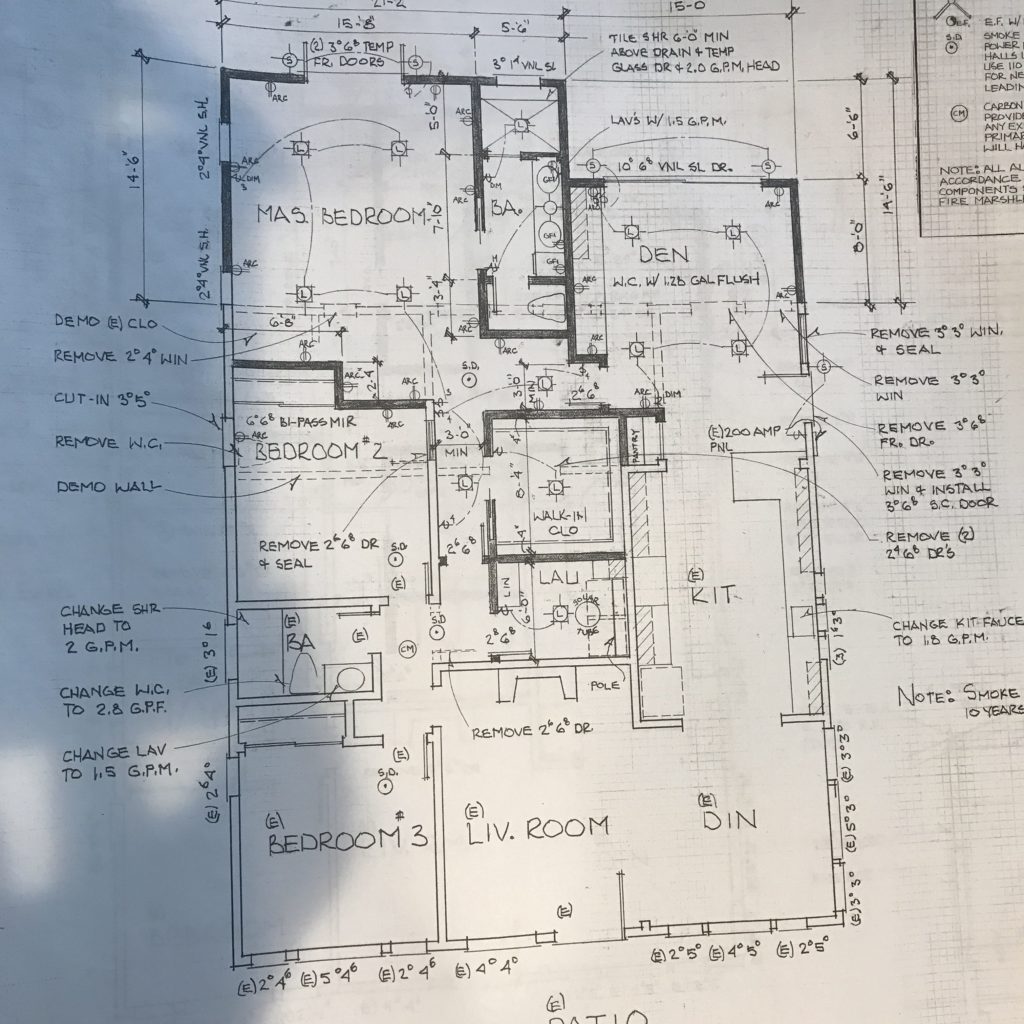 Since we are changing the roofline, it is a good time to add on. Right now the house is 1,300 square feet and it will become a 1,700 square foot house. We're adding on a family room at the back of the kitchen, Cade's room will get bigger so it's a normal sized bedroom and he'll get a closet, there will be an official laundry room (all the praise hands!), and we will have a master suite. Just some minor changes! =)
We have permits and work is about to start! We are acting as the general contractor and hiring out the work to subcontractors like we did for the first renovation. And we plan on living here during construction. Yikes. Good thing I find this all fun! The a/c was disconnected and moved today, because it was sitting right where the addition will be. We are thankful that cooler weather has arrived! The back yard will get demoed soon, along with the stucco along the back of the house so that the foundation for the addition can get attached to the current house. Once that's done (along with a million inspections- I guess they like to really check new foundation footings and such. Make sure the house doesn't fall over, etc. Go figure.), we will move a whole lot of our stuff into storage, our bed will be in the dining room (more fancy!), and Cade and Savannah will share a room.
It's going to be an adventure, and we are very thankful for the opportunity to fix up this house. It all feels very extravagant- I never in my wildest, HGTV binge watching dreams, imagined getting to redo an entire house. But here we are! I know there will be really hard days and lots of decisions to make, but I also know that Trav and I are well suited for this kind of project. Plus I just think of that creepy, empty second bathroom in the back and I know it's time to get started.
If you like this sort of thing and don't mind watching the longest ever house renovation show (this thing ain't takin' half an hour y'all), I'll be posting along the way on Insta-stories on my personal Instagram account- @heymrsaustin. See you there!