I had so much fun decorating the nursery for Savannah. Since the rest of the house is in various stages of construction, it was therapeutic to finish this room completely. Here's a little reminder of what it looked like when we purchased the house: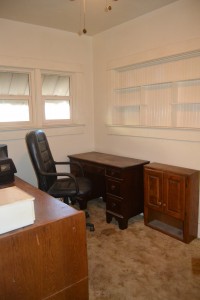 As far as remodeling goes, we removed some weird built-ins (not in the pic above) and new paint and flooring were installed. We think that the wall with the shelves used to be the back of the house, and a previous owner filled in a window with the little shelves and boarded up a door when they did a weird addition at some point. We turned the door part into a chalkboard. And then added a lot of cute to the rest of the room.
This room is ta-ta-tiny, so the shelves are a great place to keep lots of fun baby girl items. Savannah received all kinds of fabulous shoes at her showers, and I just about die every time I look at them on display. Thanks for the great idea, Jane! The fabric flowers you see are from our wedding. Yay for re-using a craft! Auntie Debbie (a.k.a. Auntie Sissy) made the gold A for Austin. The picture above was taken before Savvy was born (and before her name was announced), so now you can see that the open space on the top shelf has been filled with a letter S. =)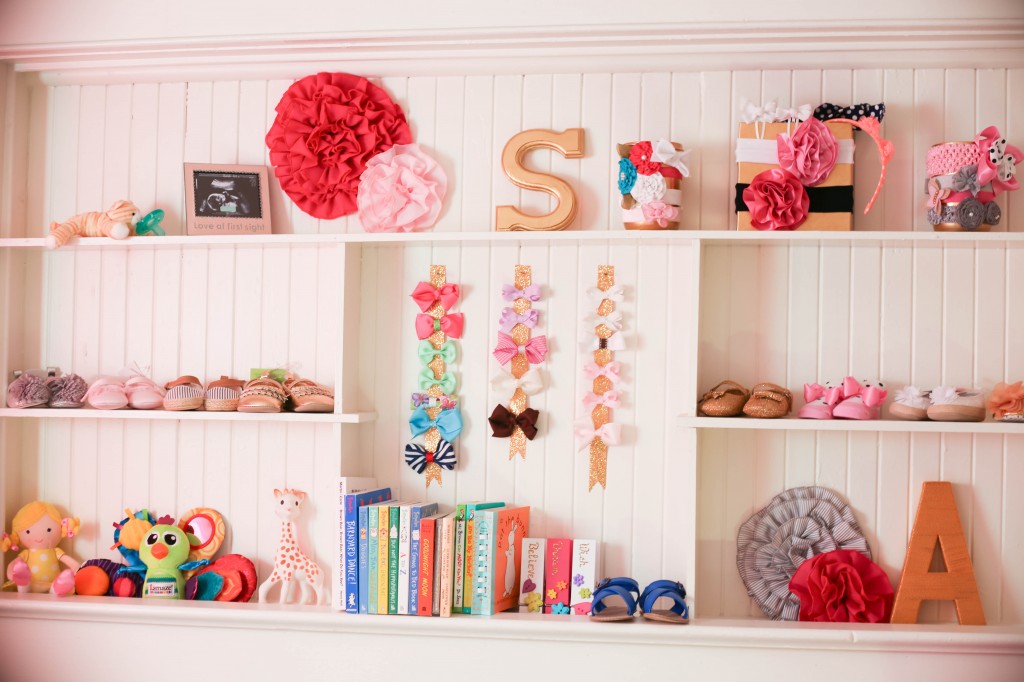 Our girl also has all sorts of cute hair accessories. The bows are just clipped onto some sparkly gold ribbon I nailed to the wall. Her headbands on the top shelf are wrapped around two mason jars and a box that originally held books. The mason jars also hold lots of smaller hair clips.They got their lovely gold-ness from a can of spray paint. I spent some time looking for gold accessories to add to the room, but then I realized I could spray paint things I already owned. Besides the jars and box, I also painted the little side table, a crate to hold diapers on top of the dresser, the S for Savannah, and the curtain rods that I had previously used in my living room.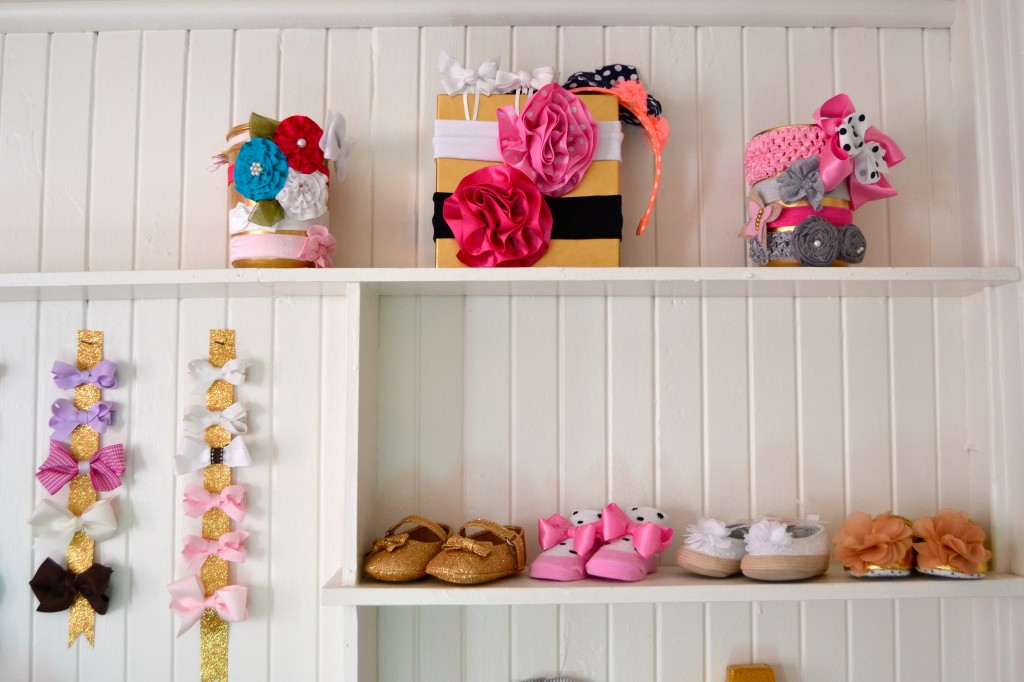 The white wardrobe was a fun find on Craigslist. I switched out the silver knobs it came with for some clear and gold ones from Home Depot. The funky dresser belonged to my great-grandparents, and my grandma kept games and toys in it at her house when I was growing up. I found it in my great-uncle's basement when I was looking for free furniture right after college, and I've used it as a t.v. stand, buffet table, and Trav's dresser. Now it's a changing table and dresser.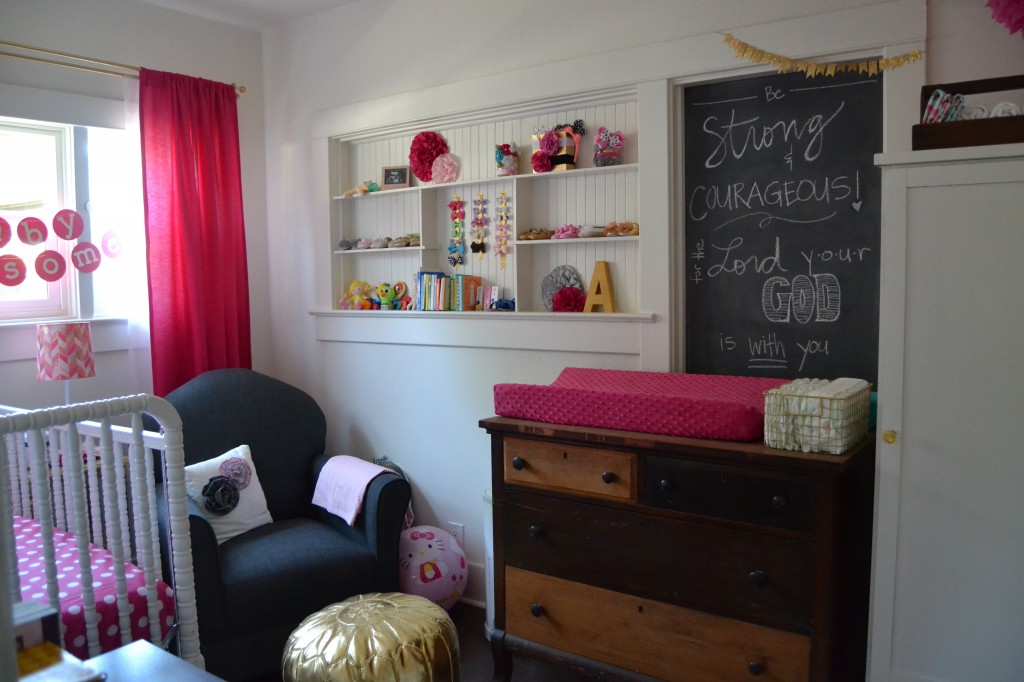 Behold the gold pouf. I found it on etsy, and it is sold without the stuffing. Which means I purchased a bunch of filler in downtown L.A., and then my dear husband helped me stuff the silly thing. It is more difficult to do than you might think. And it turns out that although a gold pouf looks absolutely fabulous, it isn't the most practical foot rest for nursing. I ended up borrowing a shorter, sturdier footrest that is made for nursing moms (thanks McLeishes!), and the gold pouf is tucked in the corner for now. I'm thinking it will be quite the hit when Miss Savannah starts walking and needs something to take laps around.
The chair was given to us for free by our dear neighbors (thanks Rosenkranzes!), and I had it reupholstered. It is exactly what I was wanted!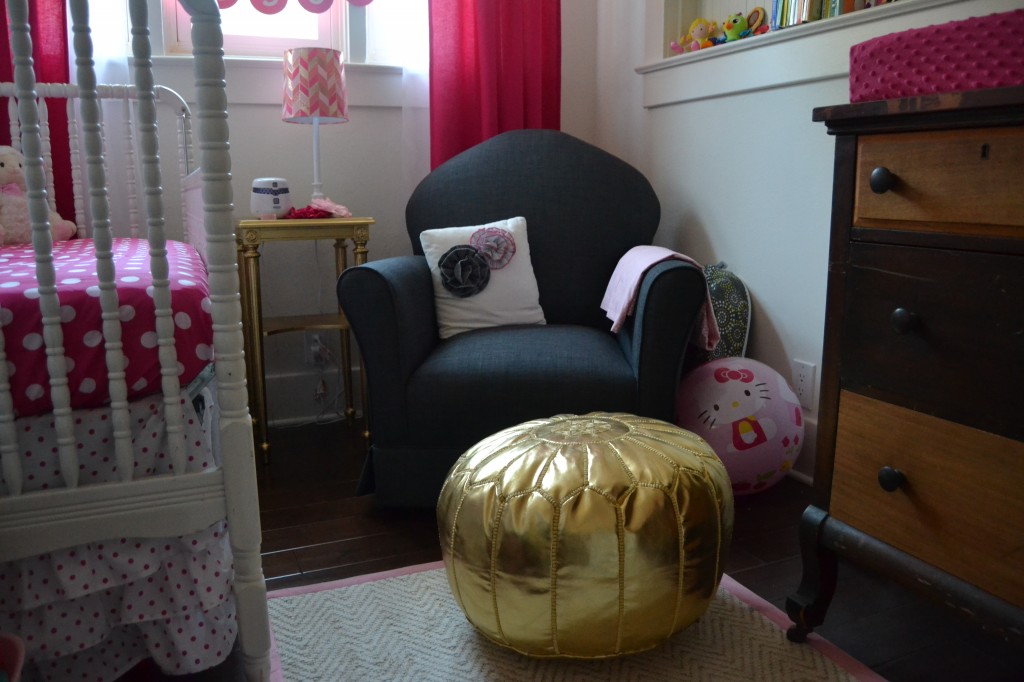 Debbie made the Baby Awesome banner for one of my baby showers. Super cute! And my mom made the curtains…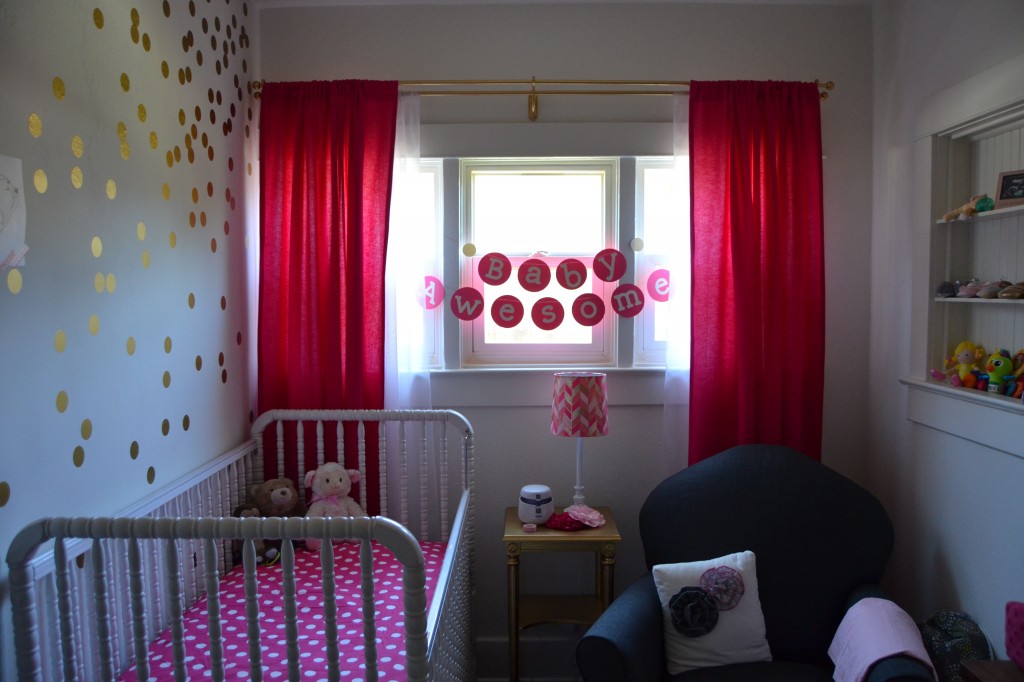 …and the adorable cribskirt. I love it so much! Polka dots + ruffles = my happy combo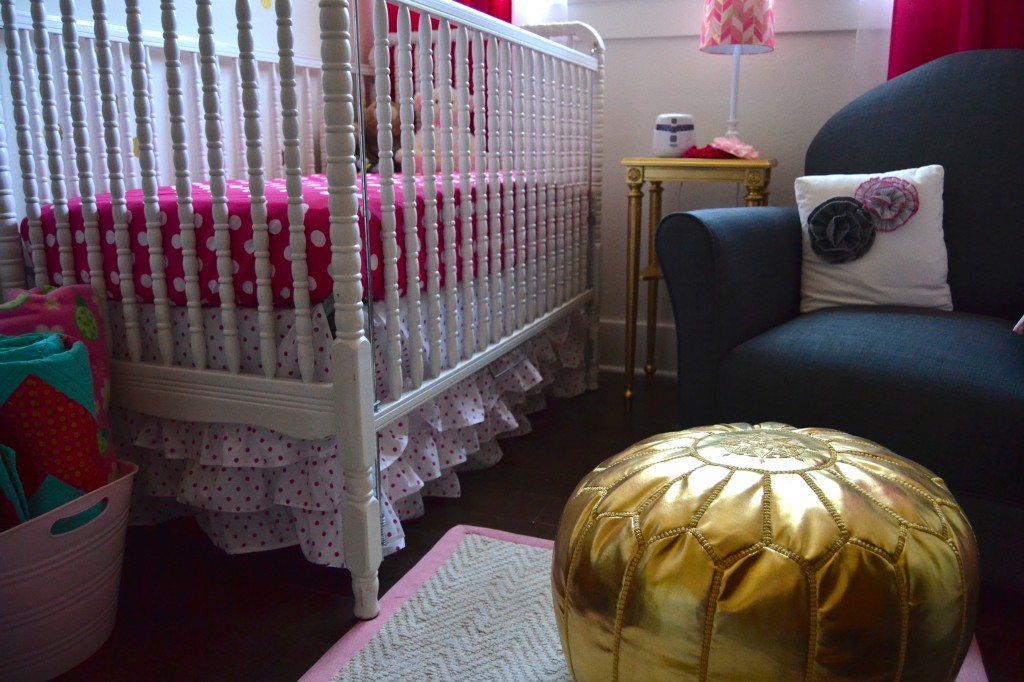 And my favorite feature is most definitely the gold polka dot wall. I saw this on pinterest and then designed the rest of the room around it. The polka dots are decal stickers from Walls Need Love . I printed out the inspiration picture and referenced it as I put the dots up. It's a very forgiving pattern and the dots peeled off easily when I needed to readjust them. It was definitely a fun, low stress, high impact project! And Savvy loves LOVES looking at the dots, which I find super adorable.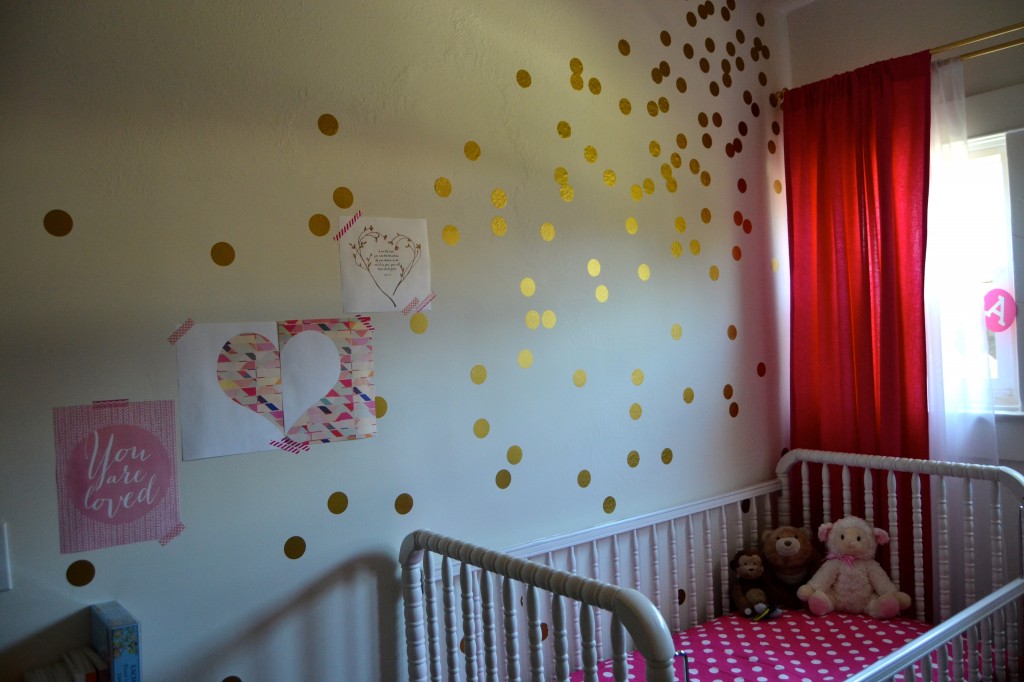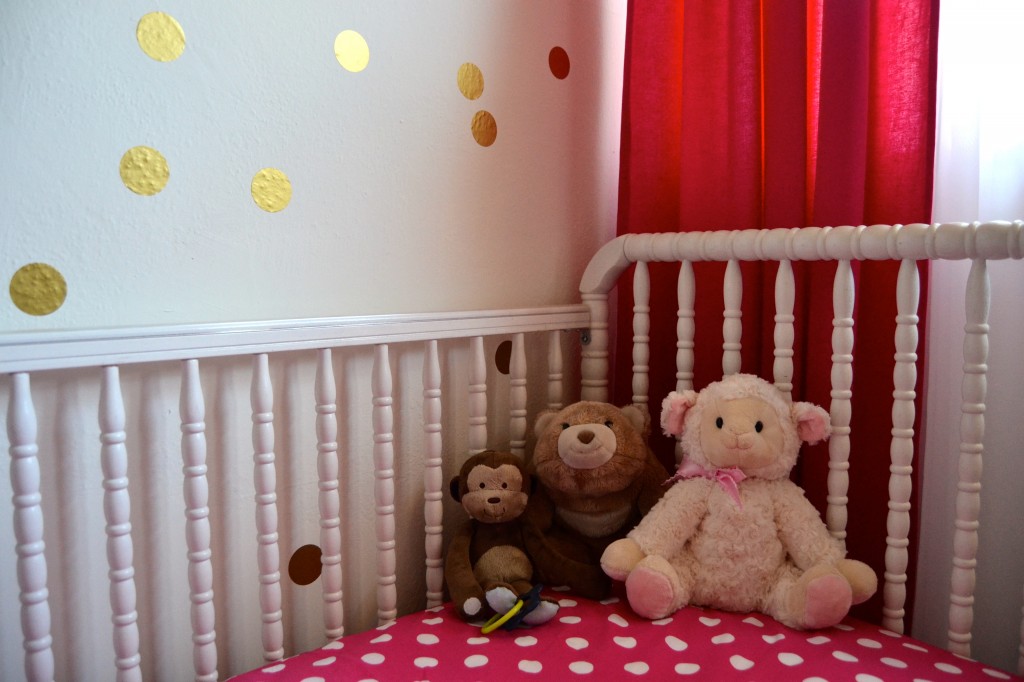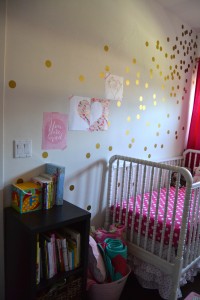 I got these art prints from Etsy as instant downloads. Super easy and inexpensive! The verse on the top print is John 15:5a, "I am the vine, you are the branches. If you remain in me and I in you, you will bear much fruit." That may seem like a random verse for a baby's room, but John 15 has been a chapter of the Bible that I go back to again and again ever since my yikes-I-turned-30-and-I'm-freaking-out experience from a few years ago. God taught me a lot about just being still and abiding in him, rather than striving through my days. I want to continue to practice that kind of resting, even in this new season of motherhood.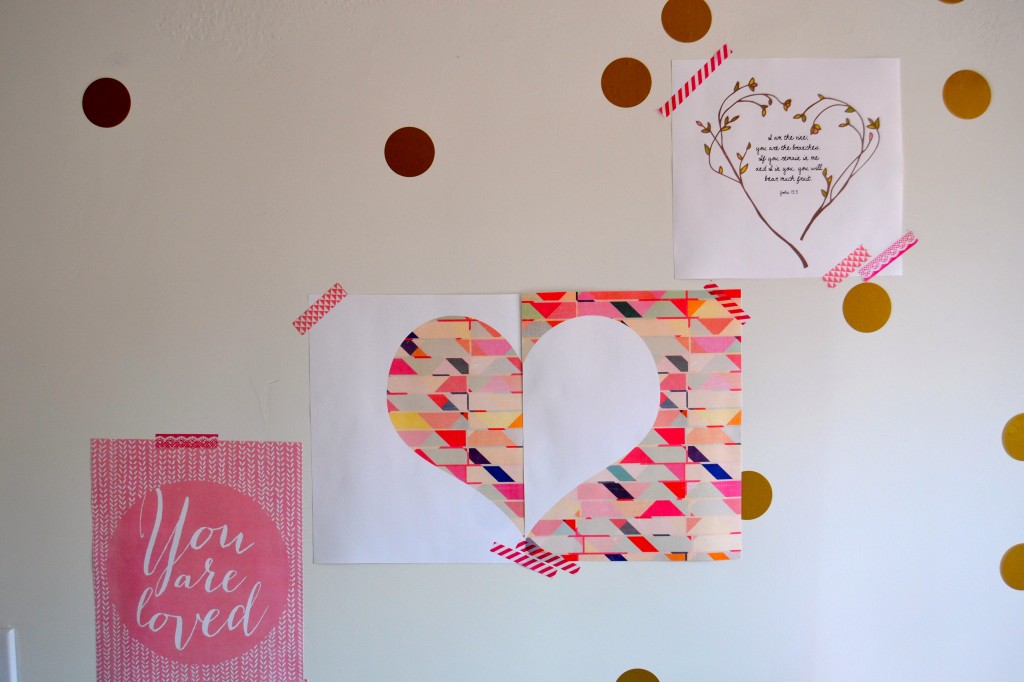 A friend of mind told me she decorated her baby's room to be a peaceful place where she (the mom) would enjoy spending time since she would be in there so much. I thought that was a great idea, so I filled this space with things that make me smile and feel encouraged. We'll have to wait and see if Savvy is a pink, sparkly, polka dots kind of girl like her mama. So far though, I think she likes it in here. =)