My dining room table stirs up all kinds of thankfulness for me. I've been feeling reflective about it recently (as one does) because our recent master bedroom remodel required us to sleep in the dining room and put all the regular furniture in storage. It was as weird as it sounds. We got everything back to normal a few weeks ago, and I am so thankful to have a table again! Apparently absence makes the heart grow fonder even in relation to a piece of furniture.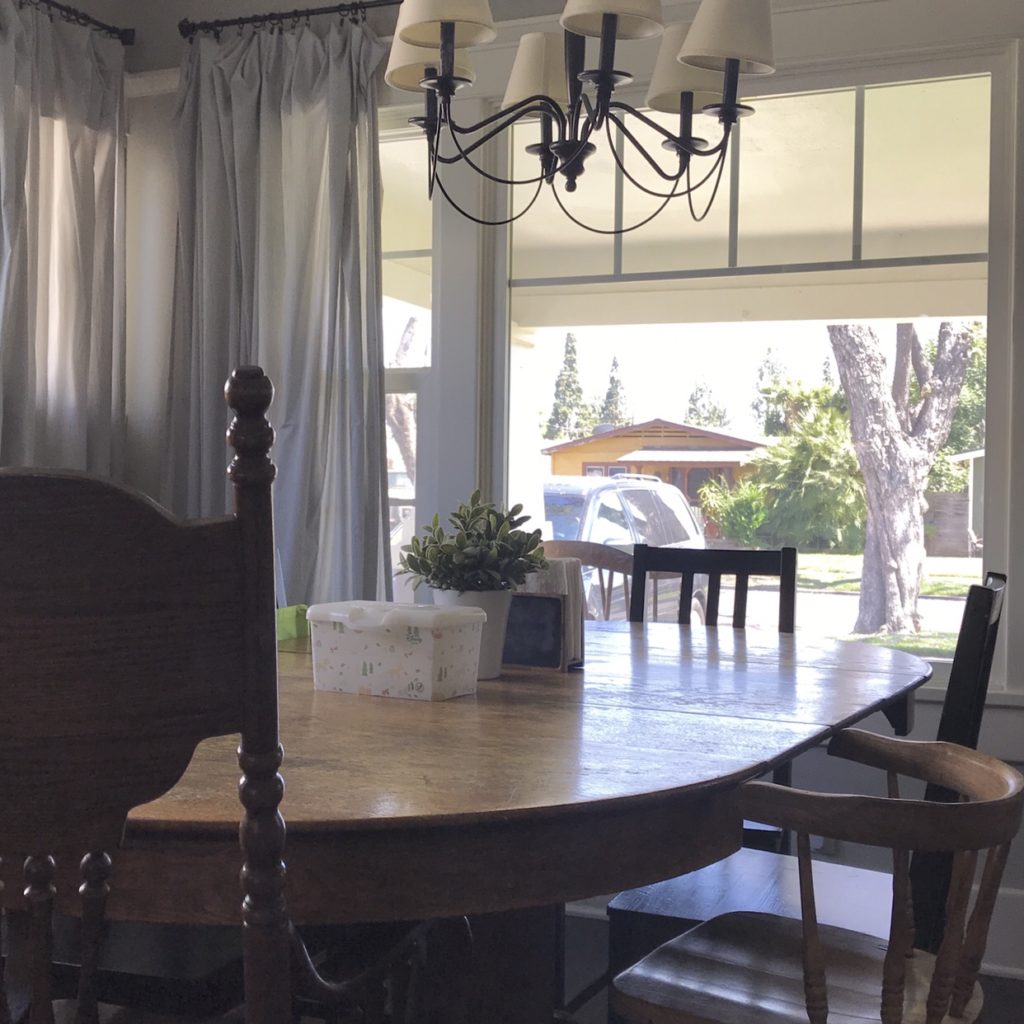 My great-grandparents bought this table forever ago and I discovered it in my great-uncle's basement when I was setting up my first post-college apartment. You know that phase when you have zero dollars so you go searching for any and all free furniture.
In a cute little apartment with two of my best friends, this table helped us gather to eat meals we were figuring out how to cook, play games with friends (Settlers of Catan, anyone?), and do the hard work of grad school and early days of teaching careers. A couple years down the road, the table moved with me to the condo I bought with the help of my generous parents, and it continued helping me build community with more fun roommates. We ate lots of brunch around it, started a little something called Dinner Club where new friends found comfort in being together when the world felt lonely, and there was lots of laughter. So much laughter.
Eventually, by God's grace, the table welcomed a good man to pull up a chair and stay a while. And I found myself using the table to have friends over to help me stuff wedding invitations into envelopes and try out centerpiece options for a wedding reception. On our first married Christmas, I got to set a pretty table with fancy china. (I'm not crying! You're crying!)
Now here it is today in the picture above. Little chairs to help my kids find their place at the table. Wipes readily available in the center to clean up again and again. And a chair that Trav loves that looks ornate and random, but quietly reminds me of my grandpa who it used to belong to. All of this in a house that is a gift of grace far beyond what any of us deserves.
So many reminders of my family and the history we share. So many fun memories around this table from when I was single. And now time for new memories with my kids, husband, and the dear friends we invite over. I am so thankful for this physical reminder in my home that points me to God's goodness and provision. Do you have any pieces in your home that tell you about where you've been? Or do you own anything that you look forward to being a part of your future?