Books are so often a big part of how I learn and grow. Here is a list of good reads to check out if you're interested in moving toward marriage with intention.
Prayer by Tim Keller isn't about dating at all, but it will encourage you as you seek God and his will for your life. Chapter 14 (Struggle: Asking His Help) is particularly amazing in regards to things you've prayed about for a long time without understanding how God is directing you. If your dating life has caused distance between you and God, this is a great book to guide your prayer life and give you direction for how to pray for marriage.
The Meaning of Marriage by Tim and Kathy Keller paints a beautiful and true picture of what God intends for marriage to be about and look like. It is wise to know the why behind your desires and goals, and this book looks at the many facets of marriage's purpose that is laid out in Scripture.
How to Get a Date Worth Keeping by Henry Cloud is that book that I can't quit recommending! It changed my life. No pressure for it to do that for you, but hey, it could happen! Get it, read it, talk about it, disagree with it, try it. Thank me later.
Get the Guy by Matthew Hussey is full of great tips and tools for meeting and getting to know new men as you go about your daily life. I think you'll be encouraged and more confident after you read his advice.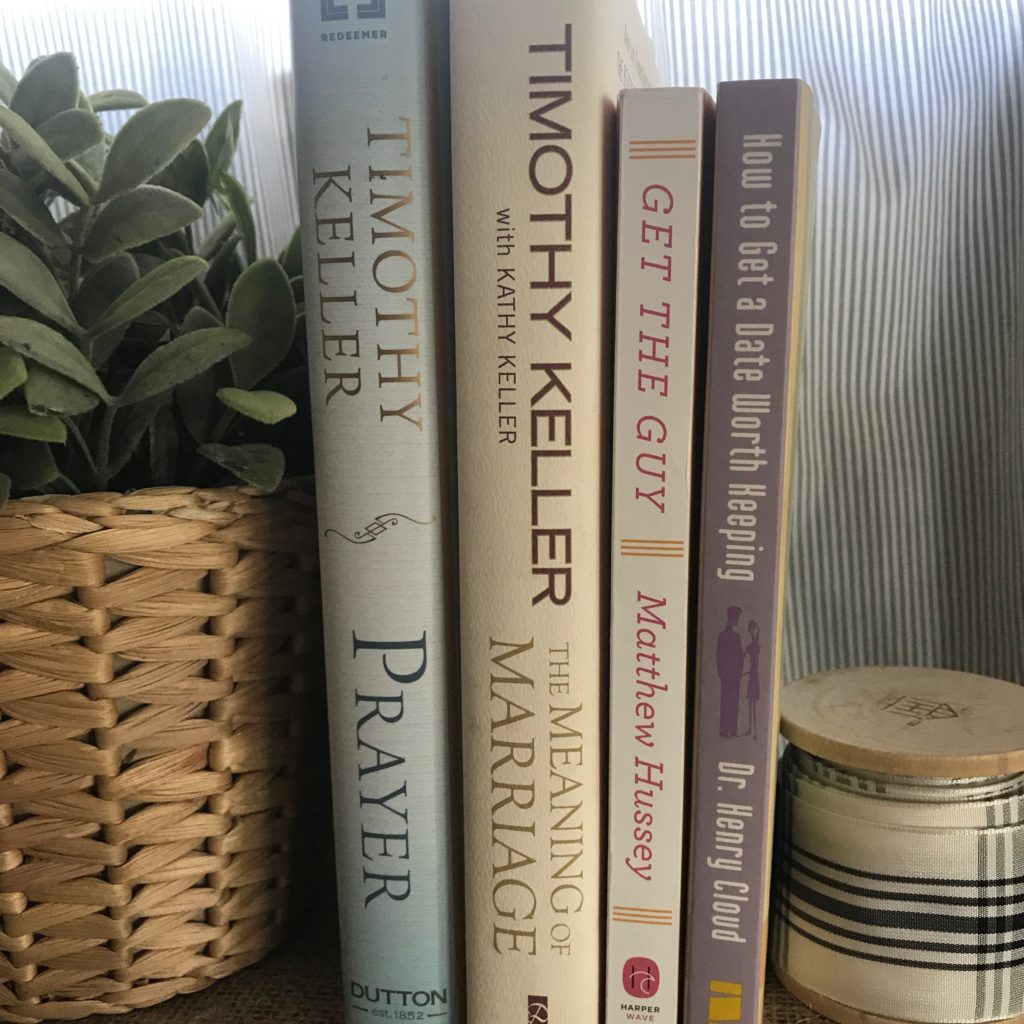 Here are a few honorable mentions:
Boundaries in Dating: How Healthy Choices Grow Healthy Relationships by Henry Cloud and John Townsend will give you wise counsel for once you're in an exclusive relationship.
Get Married: What Women Can Do to Help It Happen by Candace Watters encouraged me to start praying about my dating life again after giving up years before, gave me new interest in the story of Ruth in the Bible, and reminded me that desiring to be a wife and mother is a normal and worthy pursuit.
He's Just Not That Into You by Greg Behrendt will help if you find yourself hopelessly stuck with a crush on a guy that isn't asking you out or moving a friendship or relationship forward. It helped me finally move on from feelings I had for a friend FOR-E-VER and I'm grateful to have read it.
Find a Husband After 35: Using What I Learned at Harvard Business School is based on the author's fascinating experience, and she lays out a very detailed, step-by-step process that you can work through and use to help you set goals.
Have a look at my Instagram story highlights if you'd like to hear a few thoughts on these books. And happy reading!