I've been thinking about how our little house reminds me of the good news of the gospel. Before we came along, our house was a mess and desperately needed saving. We loved it even though it was a disaster, and we paid a price to make it ours. We saved it from a sad fate, and each day the saving process continues as we fix the house up and make it new again.
Our house's story mimics mine in many ways. Jesus loved me when my soul was a mess, and he paid with his very life to make me his own. He saved me and gave me a new heart. Now as I walk with him each day, he is continually saving me. He's fixing me up and teaching me what it means to follow him and love others.
That sanctification process of growing in Christ is not always easy or obvious. But it's happening. And that's kind of how things have been for our house over the last week or so. If it could talk, it would probably say, "Ouch! That hurt! What are you doing?!?" Things had to look worse before they can get better. We ripped out a whole lot of junk that needed to be thrown away, and then the electrical and plumbing work began. There is some evidence of the work of the electrician and plumber, but a lot of it will be unseen when all is said and done. But we couldn't exactly skip those unseen tasks. I'm very much looking forward to all the pretty parts of a remodel, but I'm also especially thankful that there will be running water, modern electricity, and most importantly, air conditioning! Here are some pictures from this last week:
The old hardwood is all gone, along with the furnace that used to be in front of the fireplace. Some of the subfloor was bad, so those pieces were replaced (after this pic was taken).
Last week the lathe and plaster was removed in the kitchen to prep it for new drywall. And some of the subfloor was removed as well.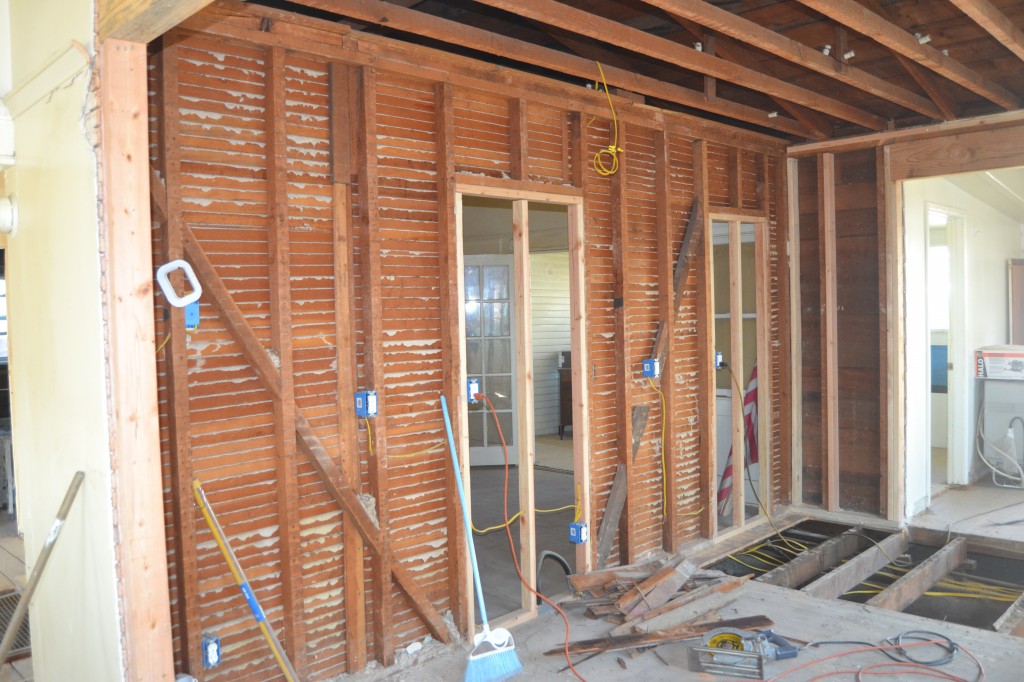 The new ceiling and subfloor were installed by the end of the week!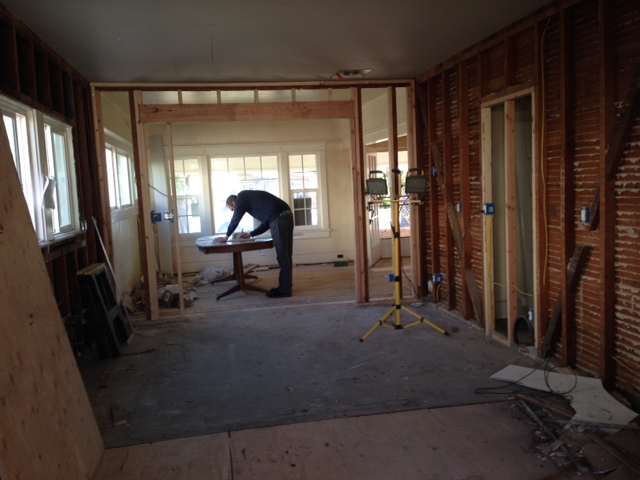 The plumbing in the bathroom was moved around to make a more sensible layout. The before bathroom pic is in this post. The tub is now under the window and the sink vanity and toilet will be on the left.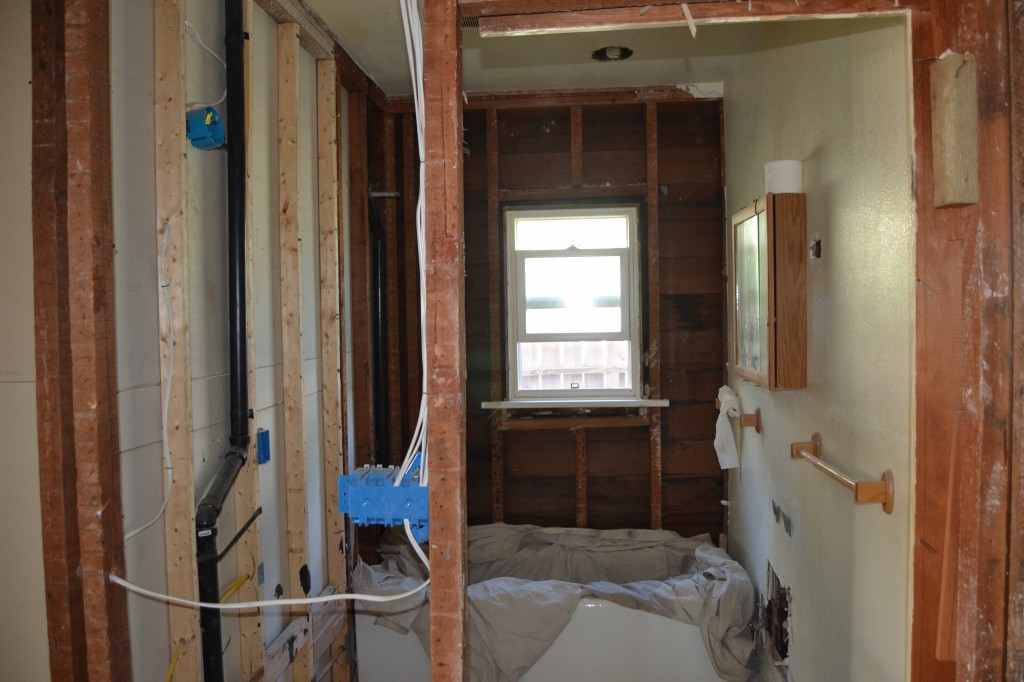 And since the tub was moved, the window needed to downsize.
Can lights in the living room!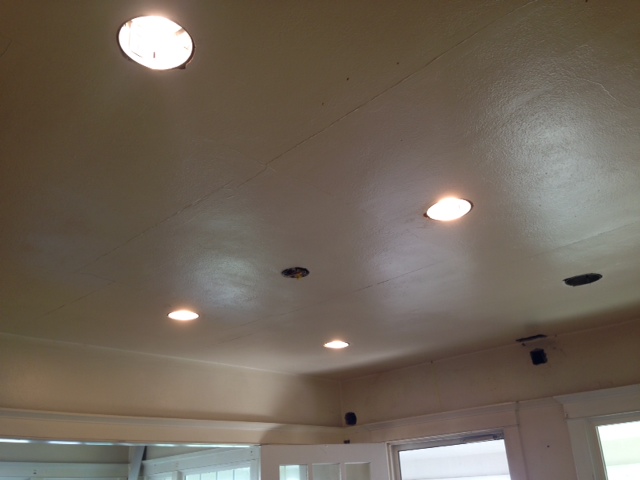 With new switches to turn them on and off…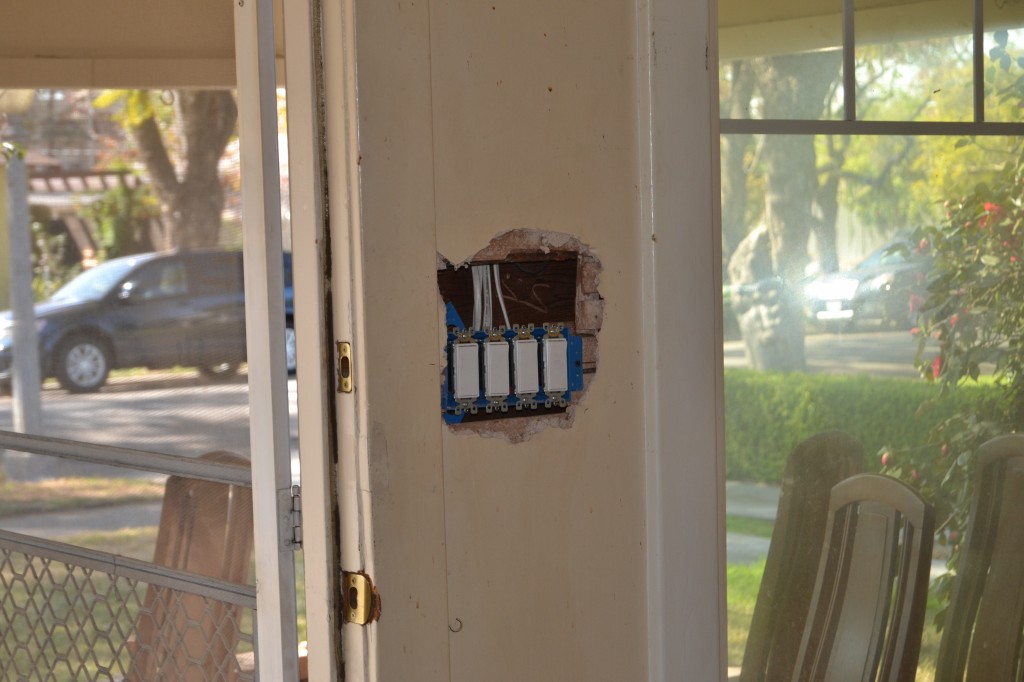 Although the switches won't be necessary all of the time. Trav installed a new front door lock that is very fancy. We can unlock it using a regular key, a keypad on the dead bolt, or even an app on our phones. And Trav can program it for various "scenes". For instance, when we unlock the door, the living room lights turn on, and when we lock the door, the lights turn off. Super cool! Trav has found joy in adding remote controls to things since he was in jr. high. He made a system in his room that would turn on/off the lights, fan, and radio, and open/close the blinds on the window. His brother says he was the laziest jr. higher he'd ever met, but Trav counters that it took a whole lot of work to be that lazy. =) I'm all for fun gadgets and technology. My only request is that we make sure the house doesn't decide to turn against me and lock me out or leave me in the dark suddenly.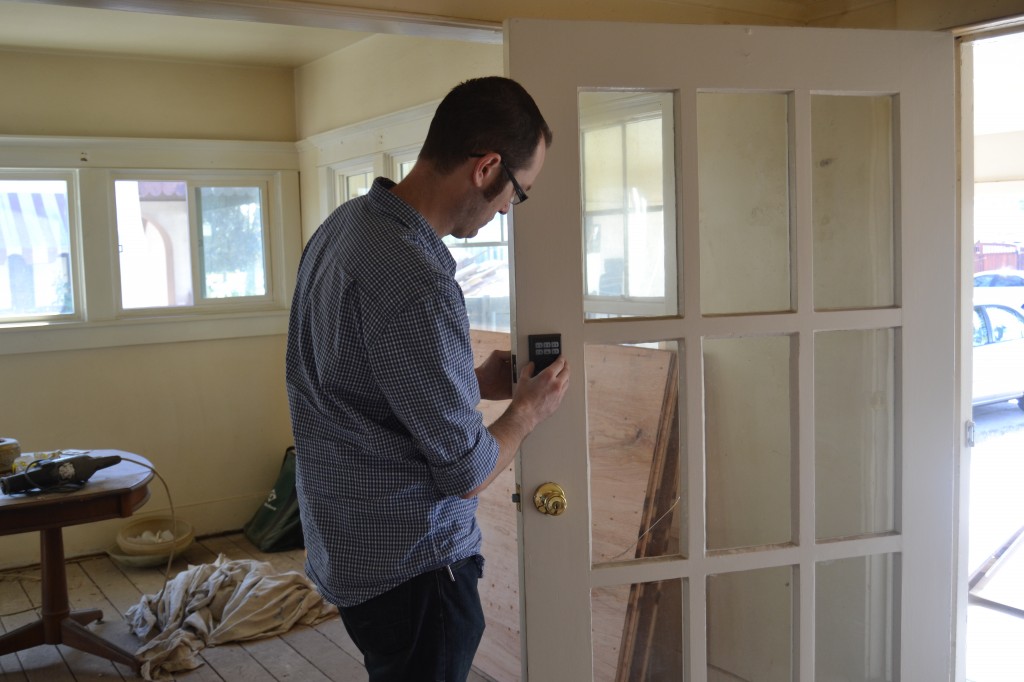 And glory be, we have a linen closet! The plug at the top is there so we can house the TV components (DVD player, Apple TV, etc.) in the upper part of the closet.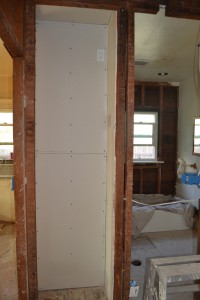 We've got a long way to go, but it's also true that a whole lot has already been accomplished. May our gospel house encourage your heart if something in your life feels far from finished these days. God is at work, dear friends. All the time, and always with wisdom and goodness.