This post is a part of an ongoing series. To read the rest of the series, click here to check out the list on my about page.
Our house project was definitely the recent kick of motivation I needed to get back to blogging. I knew if I didn't start writing down everything that was happening, I'd never go back and record this fun and crazy season. It has been so helpful for me to pause and reflect in order to write, because things are happening very quickly. I don't want to miss any of it!
However, this won't just be a house renovation blog. There will be random thoughts and stories, and when Baby Awesome arrives, you can expect lots of cute pictures. =) Here's a little baby bump pic just to get things started. I was 21 weeks in this picture, now I'm at 23 (almost 6 months).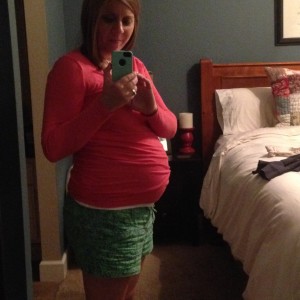 And before our little girl takes over, I also want to write down my dating story from the last few years. You might think that means I'll be telling the story of how my husband and I met and got married. That's part of it, but Trav won't actually show up until about half way through. Years before I ever met Trav, God began to teach me lessons and work in my heart in ways that led to some major changes in how I live and act- so much so that I often refer to "old Laura" and "new Laura". I hope you'll enjoy hearing the story, and that you'll give glory to God for the grace upon grace that he poured down on me throughout the process. Plus, I need you to encourage me to keep writing until I finish!
The story starts in the summer of 2007 when I was 27 years old. I was living in my condo in La Habra with my friends, Anna and Karissa. It was summer vacation, and I was recovering from my 5th year of teaching fifth grade at a public school in Whittier. I loved time with my dear friends, fun family, and my church community. I had just finished my fourth and final year of being a core group leader in the high school group, and I enjoyed planning the church's yearly women's retreat. I was a busy little bee, and I loved every second of it.
But there was something missing. I really wanted to be married. I wanted to be a wife and mommy. But I never, ever told anyone that. I talked with some friends about the occasional crush I had and about how my singleness was hard, but I NEVER talked about dating. I know that is shocking to those of you that only know New Laura, a.k.a. the Girl Who Loves and is Always Talking About Dating. I'm tellin' ya, I've changed a lot!
Then one day in the middle of my summer break, a friend from work called and said she had something she wanted to give me. I invited her over that week, not knowing that it would be the start of big changes that God would do in my heart.
The second post in this series can be found here.