Yay for the arrival of the Christmas season! We had a lovely Thanksgiving weekend, and now I am excited that I can officially jump into all the joys of Christmas. I've been in a funk here and there the last few weeks, so I let myself do some holiday things early like listening to Christmas music and I put Christmas jammies on the kids in early November. Both of those things make me so happy. =)
But now Thanksgiving is over, so it is Christmas time for realz. I'm currently looking at our Christmas tree with just white lights on it. So pretty and calming. We will find out later this week about the next steps of our renovation project, which will help me know how much to actually decorate this year. Demo phase 2 will happen in the next few weeks, and we'll have to move everyone to the front of the house when that happens. So, I'm putting up a few things now, and I'll figure out the rest as the month continues. I love everything about Christmas- the intentional rhythms of Advent in the Church calendar (Emmanuel! God is with us!), the decorations, the food, the traditions, the family time, and the gift giving.
A few random gift ideas popped into my head over the last month, so I thought I'd share them with you. You know how bloggers put together super cute collages with pictures of all the gifts? Well, that would take me forever plus a day (someday maybe!), so instead you're going to get links and sometimes some helpful descriptions. =)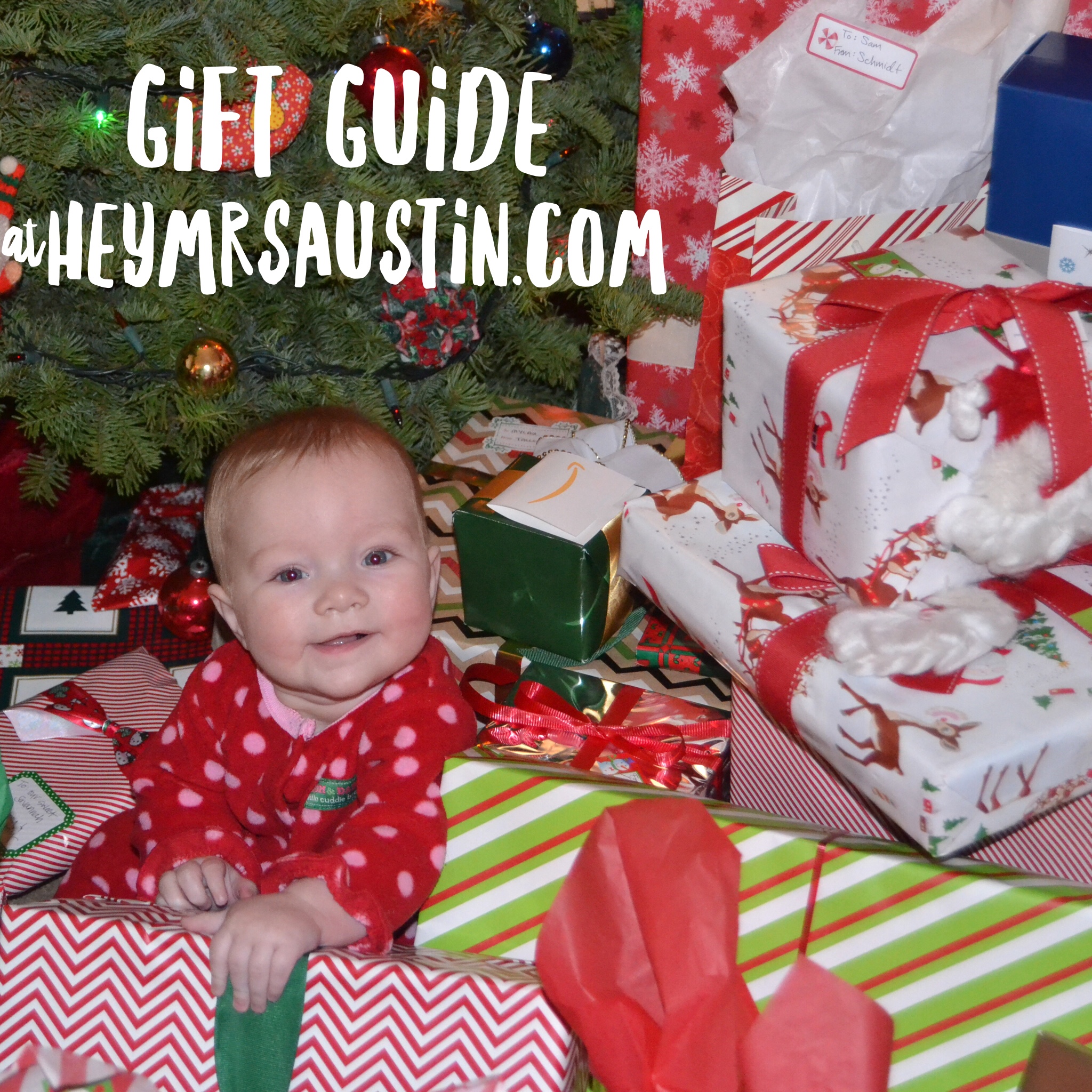 For the ladies in your life…
These Gap pants might change your life. Well, maybe not. But you'll be comfortable! Some bloggers I love rave about these PJ leggings (might be sold out because of Cyber Monday, but check again later!). I tried them, but they weren't quite right for me. But the joggers are my new fave. I'm sad when they're in the wash. I like that I can wear them outside without too much shame. I even bought a second pair when I looked up the link just now because Gap's Cyber Monday deal is great! 50% off everything with code CYBER and another 10% off with the code TREAT.
A friend told me about these books by Katherine Reay- Dear Mr. Knightley and Lizzy & Jane. My Jane Austen peeps are already sold just by reading those titles, but in case you want a little more info, they're new stories set in current times (not a re-telling of Austen plots) and have lots of fun literary references.
Swell water bottles were all the rage for a bit (are they still?), but I couldn't really figure out what the fuss was all about, particularly since they're pricey. But then a dear friend gave me one as a gift, and I love it! It's one of the Sip versions. It's been nice over these past few hot hot hot months to have a water bottle that is insulated so we can have cold water when we're out and about. And my favorite feature is that it fits in the bottle pocket of my diaper bag, so this might be a great gift for a mama in your life.
Speaking of water bottles, I bought myself a tumbler from Lindsay Letters last year (it says "Drink More Water, Darling"- so kind and gracious!) and although I'm not seeing it on her site anymore, she does offer this one that is so cute. And her art prints, and well, everything else on her site is amazing.
Here are a few options for the guys…
Small drone. Duh. Assume it will get lost or broken eventually/immediately, but they're super fun.
Do you already have one of these electric fly swatters? We take our fly killing seriously around here since we haven't bothered to buy screen doors for our house yet. Why just smash the insect when you can listen to them crackle and die?
Trav loves having fancy ways of opening fun beverage bottles. He uses both this cork popper and this magnetic beer bottle opener on ordinary days and when he wants to do a fun party trick when people are over for dinner.
And for the little kids in your life, particularly the 5 and under crowd…
We love the Seek-a-Boo game. Savvy has been able to play it since she was just over two years old. It's basically a memory game that's oversized so you can spread the cards around the room. Gets them moving and builds basic vocabulary.
Play food and kitchen stuff is a big hit in our home. I found play kitchen appliances called Just Like Home at Toys R Us. We have the toaster and the blender, and they get played with almost daily. Amazon carries some of the options, but the prices are a bit higher than at Toys R Us.
Susie from Busy Toddler taught me to stock up on really random stuff that toddlers like to play with. Pom poms are always a hit. Pipe cleaners are fun- and they're magnetic. Did you know that?!? Kids love picking things up with tongs. Glow sticks would be a fun stocking stuffer.
And I pretty much love every Melissa and Doug toy we've ever received or purchased. High quality and adorable. Recent favorites have been this ice cream set and these sticker books. The set comes with three packs (and each pack has a LOT of stickers and scenes to play with), so it's easy to break the set up and get three gifts out of the deal. Which makes it an under $5 gift. I'm too tired to decide if I've explained that well, but I trust you can figure it out. =)
---
If you love a good gift guide, Sophie and Melanie did a podcast with lots of great ideas. I bought a few things from Myquillyn's list from two years ago, and it still has great ideas and links that work. Plus, she has pretty pictures of the items. =) Emily has a great guide for kids and for writers and readers.
Happy Christmas-ing! Let me know if you have other great ideas or gift guides I should check out!
*some affiliate links were used in this post!*