In April, we went on a trip to Maui with my parents, sister, brother-in-law, and niece. It was so wonderful!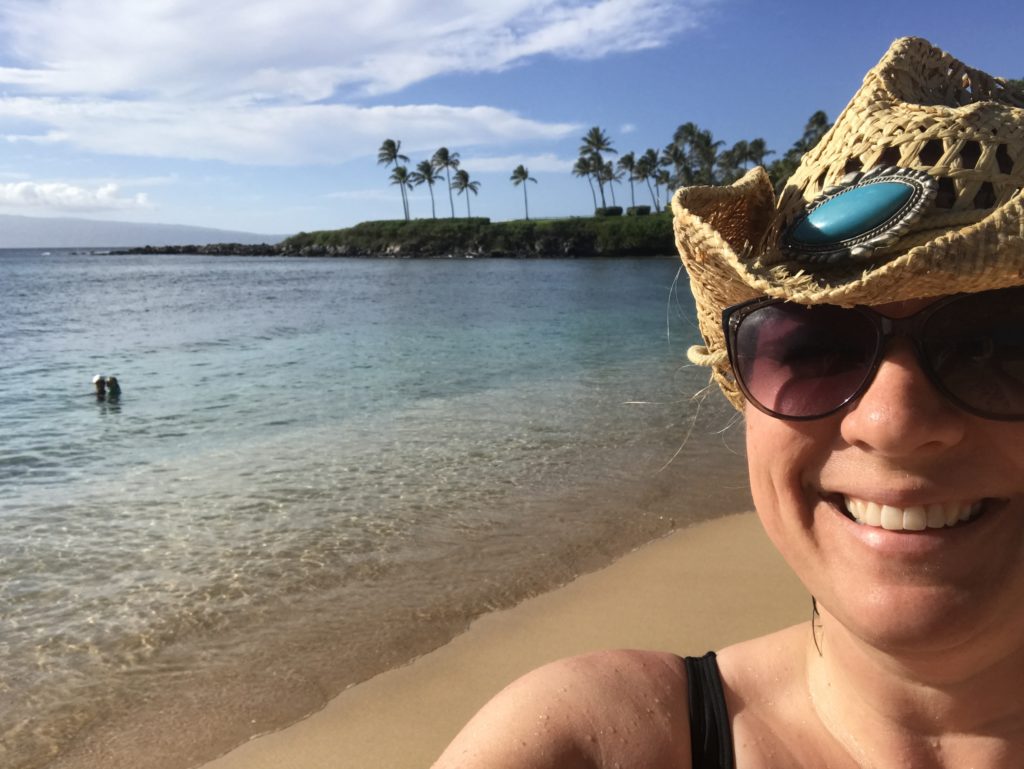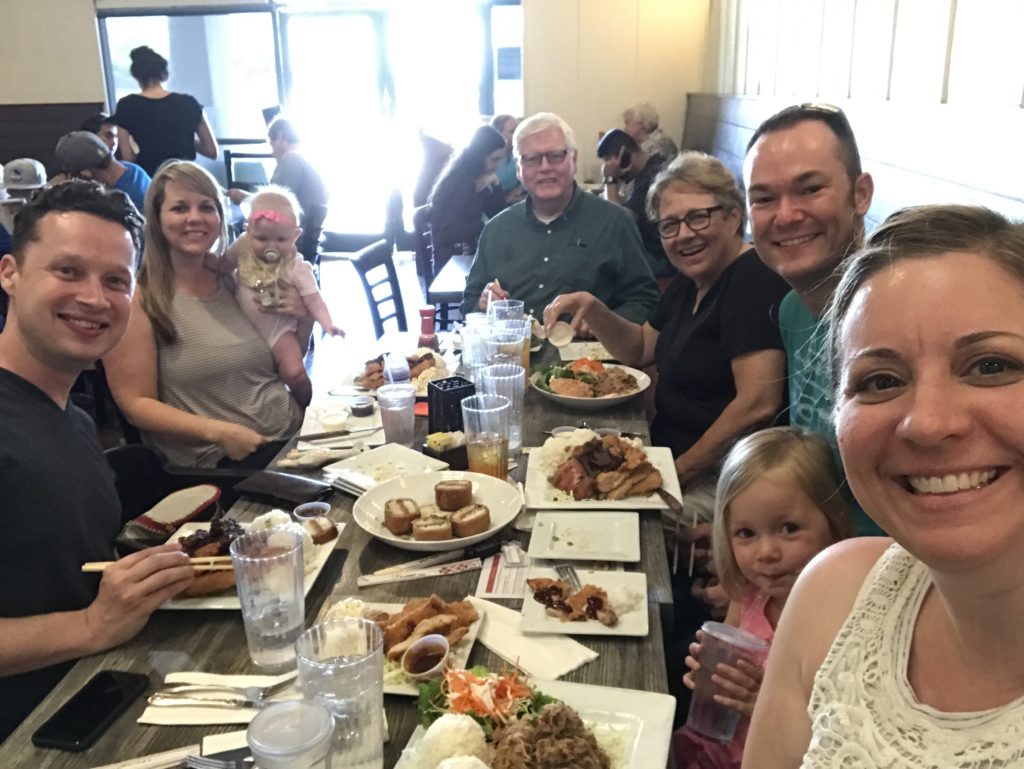 I like to research and gather tips and tricks from other people before I do something new. And a 6 hour plane ride with my 2 kids and going to the beach were new adventures! Here are some of the things that helped us have a great time. I've used affiliate links for things we purchased from Amazon. The items are the same cost for you, but I receive a few cents for bringing the item to your attention. Everyone wins!
On the plane
Take your toddler's car seat
A friend recommended that we take Savvy's car seat on the plane and we're so glad we did! It's not a safety issue- it gives you a place to lock 'em in! =) At first it sounded like a big hassle to me, since her carseat is ginormous. But we put it on a small folding luggage cart and it was easy to wheel through the airport. Trav had to lug it onto the plane to our seats, but he'd say it was worth it. Savvy is used to being buckled into her car seat, so she knew the drill and it helped her calm down. She napped in it on the way there and the way back. I don't know that I could have gotten her to stay still long enough to sleep if she'd just been free as a bird in the regular plane seat. At one point, Savvy was sitting with my parents and Cade was getting fussy. Since the carseat was available, I strapped him in and he fell asleep! Woo hoo! Shout out to Becka and Paul for informing us of the magical help a carseat can be on the plane.
Use zippered pouches to organize your carry on, and put the diapering essentials in a separate easy-to-grab bag
I took two bags on the plane. One was my normal diaper bag- a backpack because that seems to be a necessity once you have two kids. My second carry-on contained extra diapers and snacks, a blanket, a pouch with baby toys, and one of those Eagle Creek cubes filled with activities for Savannah. Some favorites are those Melissa and Doug Water Wow books, a mini-Magna Doodle, and sticker books.  Oh, and of course, the iPad. At first I thought I was being too organized by taking up space with everything in separate pouches, but it was actually super helpful! I loved being able to grab the snack bag or grab the toy bag. And the real star of the day was the diaper changing kit that I could pull out of my carry-on and take to the bathroom rather than needing to take my entire diaper bag into the tiny bathroom. It's one of those Skip Hop ones that is a changing pad with a pocket for wipes and a pocket for 3-4 diapers. Life saver.
Bring all of the kids' sleep stuff
For both Savannah and Cade, I brought along whatever they normally use for sleeping- stuffed animals, pacifiers, and for Cade, his sleep sack. I had a small blanket for Savvy, too. I almost didn't bring a stuffed animal and blanket for Savvy because *sheesh* we already had a lot packed. But I'm glad I ended up bringing them. She held Pandy (her panda's official name) almost the whole plane ride, and at one point I made a mound of stuff for Savvy to sleep on and the blanket and panda really helped.
For the beach
Pack a beach blanket
I brought along a big picnic blanket to take to the beach, and I was so glad I packed it.
Bring along a big bag to take things to the beach
My current favorite bag to use for the beach and pool is one of those huge, blue Ikea bags. It's not cute necessarily, but it gets the job done and can be wiped clean. And it packs flat, so it's easy to bring along. (Sidenote: some Ikea items are available on Amazon now. I know! Mind blown!)
Consider a beach chair for your baby
My friend, Betsy, lent me this infant camping chair and it was awesome! We used it in the condo for meals, and then at the beach just for hanging out. Cade liked it a lot (despite his facial expression in the picture below, haha), and I liked that it allowed me to buckle him into something once the moving around in the sand had lost its appeal. I found this one that has a tray as well, so you've got options, people!

Buy beach toys once you arrive
A few friends advised us to not pack beach toys and just buy some once we were there. We took that advice and beach toys were easy to find and inexpensive. There were even some left behind at our condo that we were able to use.
Sunscreen for the win.
I found this whipped sunscreen at Walmart when we arrived, and I really liked using it on the kids. It blends in easily and you can see clearly where you've already placed it. I lathered them up with it at the condo for a pre-layer before we even left for the beach and then used spray on sunscreen once we were at the beach. I also found this face stick that worked great. I had an Aveeno one and a Neutrogena one that had the same shape. I've used face sticks on Savvy in the past, but the oval shape was new to me. I like that it's wider and obviously covers more with each swipe. Maybe these have been around for forever and I'm just late to the game. Anyhow, Savvy and Cade didn't get sunburned the whole trip, which felt like a small miracle. I had a little moment where I was so amazed by sunscreen. I mean, what is it even? A cream that just blocks the sun? We live in the future.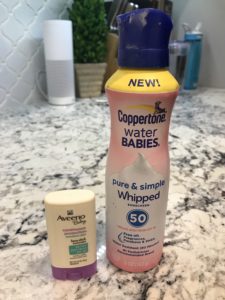 A few other things
Rent baby gear
We rented a crib, beach wagon, and toddler toys from Maui Baby Rentals and we were really glad we did! It was awesome to show up to the condo and have the crib all set up and ready to go. The beach wagon was a necessity, and Savvy loved having new-to-her toys to play with.
Take whatever stroller you're most comfortable using
We took our big double stroller with us and it was a good decision! It was not a hassle to check at the gate in the airport, and we used it almost daily once we were in Maui.
Think through your expectations
The best thing we did was have appropriate expectations for traveling with a group of 9 people that included 2 babies (7 months and 11 months), 1 toddler (almost 3 years old), and wonderful grandparents who aren't as spry as they once were. Our pace was real slow is what I'm saying. Assuming and expecting that before we left really made all the difference for me. We went to the beach every day and the pool often as well. We made some meals at home and ate out at kid friendly restaurants. We didn't see every site or go exploring more than a little bit here and there. Did we miss that? Sure. But I told myself that we'd go again in the future. I still had meals to cook, laundry to do, and diapers to change, but I could see the ocean while I did all of those things! Extended time together as a family in such a beautiful place was so good for my soul.
I hope you get to take a fun trip this summer! If you do, please over-post pictures. I'd like to live vicariously through you. =) Aloha!